£30m Welsh government grant to boost film industry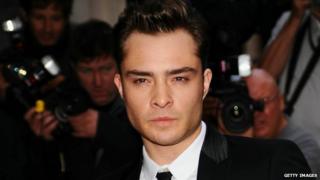 A film directed by the man behind Hollywood blockbuster I Know What You Did Last Summer will be the first to receive a Welsh government grant.
Teen flick Take Down, directed by Jim Gillespie, will get part of £30m from the Wales Media Investment Budget.
The Pinewood Pictures film, starring Gossip girl's Ed Westwick and The Vampire Diaries' Phoebe Tonkin, has started shooting in Wales.
Economy Minister Edwina Hart said the money would generate growth and jobs.
The film follows a group of spoiled teens sent to a school for troubled teenagers from rich families who are taken hostage and their struggle to escape.
It will be shot in Wales and the Isle of Man, and Pinewood Studios have confirmed it started filming on Monday at Picketston airbase in St Athan.
'Jobs growth'
"Wales has a growing reputation for film and television production and working with Pinewood Pictures we want to see even more projects coming to Wales," Mrs Hart said.
"Through this new fund we will invest up to £30m into projects brought forward by Pinewood to help create growth and jobs in this industry."
Steve Christian, from Pinewood, said it was a "significant milestone" and would "bring substantial economic benefits to Wales".
The film will be directed by Jim Gillespie, whose previous work includes horror classic I Know What You Did Last Summer.
The venture follows in the success of film director Gareth Evans, from Hirwaun, Rhondda Cynon Taf, who has just released a sequel to his critical and commercial success, The Raid.
Mr Evans studied script writing at the University of Glamorgan in Treforest, and he came up with the film's concept when he met an expert in the Silat martial art whilst working on a documentary in Indonesia.