Lord Rennard apology held until after elections, says Lord Carlile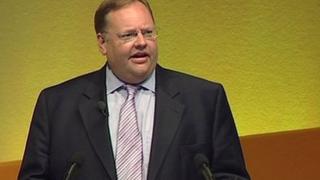 An apology by former Liberal Democrats' chief executive Lord Rennard following sexual harassment allegations was delayed until after the recent elections, his legal adviser says.
Lord Carlile said the apology was seen "weeks ago" by Deputy Prime Minister Nick Clegg.
But party lawyers held back on issuing it, at Lord Rennard's request, until after the European and local elections.
He has apologised for any "inadvertent" intrusion of "personal space".
In a letter last week, the peer, who had previously denied claims of sexual harassment, said he wanted to "apologise sincerely for any such intrusion and assure them that this would have been inadvertent".
Four women have accused him of such behaviour, including Welsh Liberal Democrat activist Alison Goldsworthy and former Welsh government adviser Bridget Harris.
Ms Goldsworthy said Lord Rennard's apology was a "start" but did not go far enough, and called for him to be expelled.
Ms Harris said it was down to the leadership to act.
Lord Carlile, former leader of the Welsh Liberal Democrats, said Lord Rennard had given a "generous" apology and he called for an internal report into his conduct to be published.
Lord Rennard, who masterminded a series of by-election victories for the party over 20 years, was asked to apologise after an internal party probe by Alistair Webster QC in March.