World Cup: Welsh pubs can stay open for England games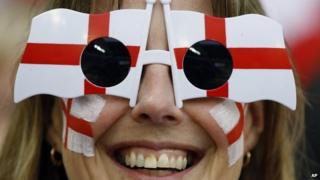 Pubs in Wales will be able to stay open late for England World Cup matches.
Welsh pubs were not originally included in the legislation but, following complaints, the Home Office now says licensing hours can be extended.
Regulations have been laid to allow premises to apply for a temporary event notice for England's World Cup games.
Ministers have the power to relax the rules to mark an occasion of "exceptional international, national or local significance".
The extension could be used by pubs in Wales for England's opening game against Italy on Saturday, 14 June, which is due to kick off at 23:00 BST.
Crime prevention minister Norman Baker said: "We want everyone to get behind the England football team this summer.
Extra time
"The government has already relaxed licensing hours in England for the World Cup and some people in Wales have said they would like longer opening hours too.
"That is why we have introduced legislation to make it easier and cheaper for pubs across Wales to extend their licensing hours."
England's two other group matches kick off at 20:00 BST and 17:00 BST so would take place during normal licensing hours.
If England reached the knockout stages, where there are several 21:00 BST kick-offs, the extended hours would be useful if games go into extra time.
Premises can apply for the licence for free from Friday but it will only apply to matches involving England.
The home secretary said in March that licensing hours could be extended in England to allow pubs to show the team's opening game but it did not apply to Wales initially.