Llanidloes and Llanfair Caereinion NatWest banks to close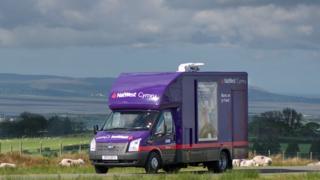 Community leaders have criticised a high street bank's decision to close two of its Powys branches and replace them with a mobile unit.
NatWest branches in Llanidloes and Llanfair Caereinion will close their doors for the last time on 29 August.
The bank said it had decided on the move because customer numbers had dropped by up to a third in the last three years.
It added that the mobile bank will visit each town weekly.
NatWest, which has been part of the Royal Bank of Scotland Group (RBS) since 2000 said there would be no redundancies as staff would be re-deployed in nearby branches.
According to the bank the number of people using the Llanidloes branch had dropped by a third since 2011 with 22 people using the branch every week.
'Satellite technology'
A NatWest spokesman added: "The number of customers at the Llanfair Caereinion branch has dropped by nearly a quarter in the last three years with nine people now using the branch every week.
"We have taken the difficult decision to close the Llanfair Caereinon and Llanidloes branches on 29 August.
"We're working with the local council on the exact stops to make sure we get the right route, but we will publish the timetable before the branch closes.
"Customers will still be able to do all the same transactions they could do in the branch, but the van will also be equipped with satellite technology which will allow staff on board to connect directly to customers account."
Opening hours at the two branches were reduced to eight hours a week in 2010.
'Bailed out'
Llanidloes county councillor, Gareth Morgan said: "The truth is that the Llanidloes branch has been run down for a number of years.
"RBS still exists because it was bailed out by the taxpayer during the banking crisis and this is the thanks that we get in return."
Llanfair Caereinion's county councillor, Viola Evans, said: "The bank is well used by locals including people returning from the market on Welshpool every Monday.
"I am disappointed that the town council was not informed about this decision which means there will only be one bank left in Llanfair Caereinion."