S4C 'must be sufficiently funded', chief executive says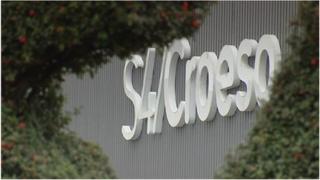 Services on the Welsh language broadcaster S4C would be endangered if the channel is not sufficiently funded, its chief executive has warned.
Ian Jones told an audience at the Urdd Eisteddfod in Bala said the channel was managing to cope with cuts already made but had to be able to "evolve and keep pace over the next decade and beyond".
He said people had to stop thinking of S4C as a "Cinderella service".
The channel's current budget runs until 2016.
Mr Jones said: "Those who control the purse strings have to accept that a national channel deserves sufficient funding.
"It is high time we stopped thinking about S4C as some kind of Cinderella in the world of broadcasting.
"It shouldn't be a poor relative, but a national treasure. And there is a price to pay for that."
He said provision for future generations of young Welsh speakers had to be secured, and he wanted to work with others to ensure the language remained a "contemporary medium" in the face of technological change.
Mr Jones also published a consultation document identifying key action points for discussion.
The channel receives 90% of its funding from the licence fee and around 8% directly from the UK government's department for culture, media and sport.