Prepare for death 'like wedding' urges Mark Drakeford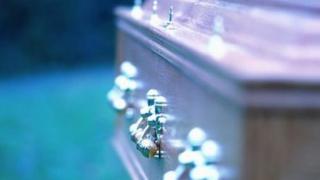 People should prepare for their death in the same way they plan for births and weddings, says the Welsh health minister.
Mark Drakeford will address the taboo of death and call for "open and honest conversation" amongst families at a conference in Llandudno.
He will speak to the Dying Matters Coalition, which has just launched in Wales.
It says almost half of people are aware of their partner's end of life wishes.
Dying Matters believes not enough people make wills or tell families about their last wishes.
The coalition - which includes carers, hospices, funeral directors and solicitors - found discussing dying and making plans for it was a taboo subject for many in Wales.
---
ARE WE PREPARED FOR DEATH?
• 85% of people in Wales believe that people are uncomfortable discussing dying and death
• 46% say they are unaware of their partner's end-of-life wishes
• 29% say they have written a will
• 30% have registered as an organ donor or have a donor card
• 28% have let someone know their funeral wishes
• Just 2% in Wales - the lowest proportion in Britain - have written down their wishes or preferences about their future care, should they be unable to make decisions for themselves
• 32% say they have experienced a family argument following a death, with money or property the main cause
Source: ComRes.
---
Mr Drakeford said: "We make plans for life's biggest events - births, graduations and weddings - but all too often we hide away from the one which will have the biggest impact on the people around us.
"It is vital that we talk, plan and make arrangements for the end of our lives before it's too late."
Matt Lloyd from the Dying Matters Coalition added: "It's not about being morbid, it's about planning for death like you plan for anything else in life. And we're saying act now and you can get on with the rest of the life.
"If you want to change your mind about any aspect of it over time - whether it's a song at your funeral or who you leave money to in your will - you can still change that."