People in Wales asked to name their special places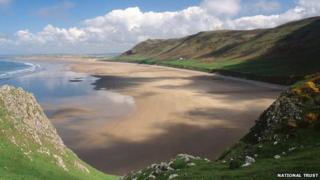 People in Wales are being asked to vote for their favourite place to be after research showed over three-quarters of people prefer to be outside.
The National Trust's Special Places project aims to find Wales' most popular site, with the winner unveiled at the National Eisteddfod in August.
The research found the places where people grew up tended to be the most special to them.
People will be able to vote using social media and a dedicated microsite.
Overall, most people preferred to spend time outdoors (78%) and with their families.
The beach and the countryside were the favourite destinations for 76% of people questioned for the National Trust.
Memory tree
The winning place chosen by the public and unveiled at the eisteddfod in Llanelli will receive help and support from the National Trust and other bodies to preserve it.
The campaign is being launched at the Hay Festival on Tuesday by Culture Minister John Griffiths.
A memory tree, consisting of cards which members of the public have written their special place memories onto, is being display there and will tour other festivals throughout the summer.
Among those taking part are the National Poet for Wales Gillian Clarke and BBC presenter Alex Jones.