Water safety warning after lake deaths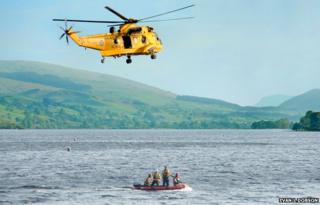 A water safety warning has been issued in Wales for the bank holiday period after two deaths a week ago.
Quarry owners have launched a "Stay Safe and Stay Out" campaign after a 20-year-old man died while swimming at a disused quarry lake in Denbigh.
A kayaker, 34, died after overturning on Bala lake in Gwynedd.
North Wales Police have also issued "stay safe" advice for people out on the water and also walking and climbing in Snowdonia.
The Mineral Products Association (MPA), which represents quarry owners, said younger people in particular were tempted to quarries in the warmer weather.
"A quick dip in a quarry lake on a hot day can seem very inviting but can rapidly lead to even strong swimmers getting into difficulty," said Elizabeth Clements, of the MPA.
"People do not appreciate that the water in a quarry can be extremely cold even after a period of prolonged warm weather.
"Cold water can produce a reflex action where swimmers inhale water into their lungs."
She said there were also unexpected hazards in quarry lakes which were often very deep.
Safety charity RoSPA, which is backing the campaign, said there were six quarry deaths across the UK in a three month period last year.
---
Water safety facts:
•Around 400 people die from drowning as a result of an accident in or around water in the UK each year
•There were six deaths in the three hot summer months in 2013
•Many deaths are due to simple everyday mistakes, such as a trip or fall into water, or underestimating swimming in cold water
•Source: RoSPA
Safety advice for young people
---
Gary Brandrick from North Wales Fire and Rescue Service, said they were regularly called to rescues which put their own crews at risk.
"Other typical incidents have included falls from ledges and unstable quarry faces, being buried in sand whilst tunnelling, being trapped and sucked down in settling ponds and injuries on trial bikes and mountain bikes. "
He urged people to respect warning signs, adding: "These sites are not adventure venues but present real danger of serious injury and death as experience has tragically shown on too many occasions."
Meanwhile, North Wales Police issued a wider water and mountain safety message.
Paul Davies, from Runcorn in Cheshire, died last Saturday after his kayak capsized in Bala lake in Snowdonia.
Det Ch Insp Dan Tipton said: "We want people to enjoy the excellent outdoor facilities that north Wales has to offer but we want people to do so safely."