Hywel Dda hospital cardiac care services under discussion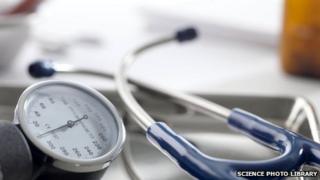 A decision on plans to shake-up cardiac services at four district hospitals in mid and west Wales will not be made until November, says its health board.
The Royal College of Physicians has called for a specialist cardiac "hub" at Glangwili Hospital in Carmarthen.
But at a meeting on Thursday, the Hywel Dda University Health Board said it was awaiting results of a mid Wales study.
It follows concerns raised about the impact for cardiac services at other hospitals run by the board.
The four hospitals at the centre of the review are Bronglais at Aberystwyth, Withybush at Haverfordwest, Glangwili at Carmarthen, and Prince Philip at Llanelli.
The Royal College report in March recommended:
Focussing cardiology care at Glangwili hospital, transferring any such patients arriving at A&E anywhere in the health board area "immediately"
Strengthen nurse specialist teams at peripheral hospitals
Make sure a consultant cardiologist is available at each of the other hospitals for at least one day a week to hold an outpatient clinic
Create an overall lead for cardiology as "there is no-one in this role at the moment"
The review said two cardiologists from separate hospitals independently raised concerns, referring to the "poor service patients are receiving".
Speaking after a health board meeting on Thursday, its medical director Dr Sue Fish said: "The university health board would like to make it absolutely clear that no final decisions about the service model for cardiology will be made until after the outcome of the mid Wales study.
"For this reason, a final service model will not be presented to the board for approval until November."
Rural issues
Dr Fish said work was already underway to "improve our cardiology services" in light of the Royal College review.
"To respond to the report from the Royal College of Physicians in time, we also have to begin work now, led by our cardiologists, to identify the safest and most appropriate model to ensure safe services in the future," added the medical director.
But the chairman of the board's community health council, which represents patients, has raised concerns about how the Royal College report findings may be implemented.
Paul Hinge said the report failed to recognise that the population of Ceredigion and Carmarthenshire can swell during holiday periods, and did not reflect the rural nature of the health board area.
"I hope that the health board's action plan will take on board the rurality of the area when developing its model," he stressed.