Milford Haven Murco fate awaited as staff talks end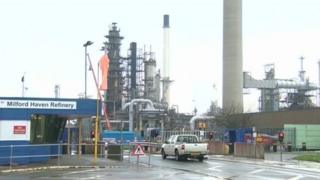 A decision on the Murco oil refinery in Milford Haven is awaited with the end of the official consultation period between the company and the staff.
Murphy Oil - Murco's American owner - began 45-day talks last month after a potential deal with a London-based private equity fund fell through.
It follows the collapse in April of a £300m deal to sell the business.
A task force has been set up to try to protect the 400 jobs at the plant which has been on the market since 2010.
On Monday it emerged that a management buy-out is being planned.
The managing director of Murco, Tom McKinlay, has taken a leave of absence as part of the proposal for the Pembrokeshire plant.
It means the consultation is expected to continue beyond the minimum 45 days,