April Jones's mother, Coral, backs child rescue alerts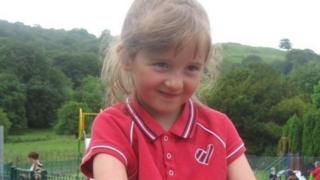 A Child Rescue Alert scheme is being backed by the mother of murdered schoolgirl April Jones.
The public alert can be triggered when a child's life is in danger.
Since 2005, alerts have been issued to the press and media. From 25 May, the system will be extended to include members of the public who sign up.
A version of the alert was used in the hunt for April, of Machynlleth, Powys, in October 2012 after she was abducted and then murdered by Mark Bridger, 47.
April's body has never been found.
Her mother, Coral Jones, helped the London launch of the campaign as she and Kate McCann, mother of missing Madeline, unveiled a digital billboard at King's Cross station on Tuesday.
Mrs Jones, 42, said: "The search for my beautiful April ended in tragedy and that is why I want to do everything I can to make sure that the next time a child is taken or in danger we can bring them home safely."
A Child Rescue Alert is a mechanism to centralise possible clues and leads from the public.
An alert can be triggered by any British police force - but only when a case matches three criteria:
The child must be under 18
There is a "reasonable belief" that the child is in imminent danger of serious harm
There is sufficient information for the public to be able to help the police investigation
The revamped system will allow alerts to be issued via text, email, social media and digital billboards.
Police can configure the system to provide material in different formats to broadcasters in the area of the appeal.
The mother and sister of the Manic Street Preachers' guitarist, Richey Edwards, who disappeared in 1995, were due to attend the Cardiff launch of the alert scheme at the Senedd on Wednesday.