Obesity surgery criteria stricter in Wales than England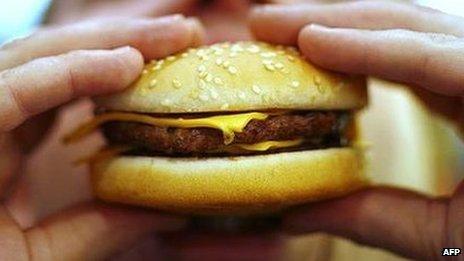 People in Wales needing bariatric surgery to help lose weight have to meet stricter criteria than patients in England, a report has found.
There are around 7,000 patients in Wales who could benefit from surgery but they have to meet a stricter set of guidelines than recommended.
It also found that only one of Wales' seven health boards provides all the weight management services they should.
Leading doctors have said support for obesity treatments is "patchy".
And one surgeon said the number of bariatric operations performed should triple.
The report for the Welsh assembly's Health and Social Care Committee found obese patients in Wales had to meet stricter standards than those recommended by the National Institute for Health and Care Excellence (Nice) when accessing help.
Jonathan Barry, one of Wales' only two bariatric surgeons, told BBC Wales: "There is a disparity between entry criteria [for surgery] in England and Wales.
"Currently in Wales you have to be twice the weight you should be [to qualify] and have significant obesity-related co-morbidities."
He said at Morriston Hospital, Swansea, where he works, 67 patients are waiting for bariatric surgery but he said they could operate on up to 220 people per year.
Currently obesity care is divided into four levels - level one starts with help from GPs and it leads up to level four which is bariatric surgery or other medical help.
The report focused on levels three and four, with three involving comprehensive weight management services at a hospital level.
At present only one health board, Aneurin Bevan, offers level three services.
Mr Barry said a roll-out of level three provision across Wales would ensure only the correct patients were being referred for interventions such as surgery.
"There are some people who don't need surgery," he said.
"They need other help. They may fall outside the criteria for surgery and they have to be looked after in their own locality."
He backed a committee recommendation to open a second bariatric unit in north Wales.
He added: "We need to maximise the throughput of patients."
The Royal College of Physicians backed the report's call for the Welsh government to fully implement its All Wales Obesity Pathway which would ensure patients everywhere had access to the higher level services.
Health and social care committee chair David Rees said: "Sufficient provision of specialist dietary, physical, and behavioural support is so important in order to avoid the invasive and drastic option of surgery, which can lead to long-term consequences as well as benefits for patients.
"In our view surgery should only be seen as a last resort."
The Welsh government said it would respond to the report in due course.
Related Internet Links
The BBC is not responsible for the content of external sites.