Elderly suffer community hospital bed closures, Age Cymru claims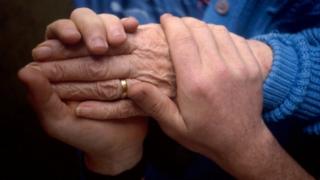 Elderly people suffer due to hospital bed closures before community measures are in place, a charity has claimed.
Bed numbers in community hospitals have fallen by 25% over five years, BBC Wales research has found, while only one health board has met targets for extra staff in the community.
Age Cymru said health officials should think again about the pace of change.
The Welsh government said it was committed to new schemes to prevent unnecessary hospital admissions.
Details are being revealed later of how a £50m community health fund announced last October will be spent to ease pressure on hospital admissions in Wales.
However, charities and community groups have questioned the suitability of such measures.
Eirwyn Harries, chair of the Cardigan Hospital League of Friends, said they were concerned that beds had closed there before a planned new health centre was ready.
He said: "This resource was so important - people now have to travel so far to see their relatives."
Hywel Dda Health Board, which runs Cardigan Hospital, said that no beds had been lost but had been spread throughout the community along with other services.
"By providing better access to facilities nearer to where people live, we will reduce the number of people who need to go to hospital," said a spokesperson.
However, a Wales Audit Office report in March on care for people with chronic conditions, said only one health board - Aneurin Bevan - had met Welsh government targets to increase the number of staff working in the community by 10% between 2010 and 2013.
Iwan Rhys Roberts, of the charity Age Cymru, said there was a case for rethinking the pace of change if community care was not in place by the time wards closed.
He said: "We have to ensure that there is adequate provision to cater to the needs of elderly patients now - not just in future.
"If implementing some of the measures that are necessary to do that is taking too long at the moment then we need to re-think, re-invest and prioritise."
The Welsh government said it and the health boards were committed to devising new services to prevent unnecessary hospital admissions.
"Many new community-based services are already in place for patients and health boards and local authorities will continue to develop new services to meet patients' needs close to home," said a spokesperson.