Careers advice warning by school inspectors Estyn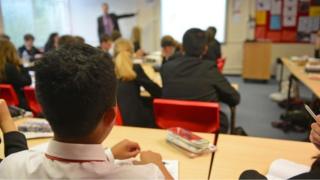 Careers advice for pupils in Wales is out of date, too generic and comes too late, especially for those leaving aged 16, school inspectors have claimed.
They found only a few schools offered all pupils one-to-one careers advice before choosing and after taking GCSEs.
It was the weakest area of learning support for 14 to 16-year-olds, according to a report by Estyn.
The Welsh government welcomed the report and said it has been taking action since last year.
Attendance and behaviour had improved since 2011, but better GCSE passes in maths, English and Welsh were needed.
'Crucial time'
Learning pathways were introduced in 2009 as a Welsh government plan to boost standards by making schools focus on individual pupils' needs.
The inspectors looked at learner support at a cross-section of 20 secondary schools throughout Wales, especially for less academic youngsters or those with problems affecting their schooling.
Positive findings included:
Improved attendance, especially in deprived areas
More pupils staying in education or training after 16
Fewer pupils being excluded
However, chief inspector Ann Keane said more could be done to improve exam passes and careers advice.
She said: "Around half of pupils still do not achieve a good GCSE in English/Welsh or mathematics, so schools need to focus more on improving attainment.
"I also urge schools to develop the quality of their careers guidance to take into account individual needs.
"Year 9 (age 14) is a crucial time in a pupil's life and they are not receiving advice early enough.
"Schools should be encouraging pupils to talk about their aspirations and hopes so that they can make informed decisions about their own futures."
'Right for them'
The report said schools may have been slow to respond to changes in the operation of Careers Wales, which no longer sets up work experience placements or one-to-one careers interviews for all pupils.
Schools were urged to follow the examples of those who co-ordinated learning, personal and careers support.
Maesteg School, near Bridgend, Cwmtawe Community School in Neath Port Talbot and Caerleon Comprehensive School in Newport were praised for their approaches.
The Welsh government welcomed the report, which it said recognised the "tangible benefits" of its Learning Pathways framework.
It added that it wrote to schools in November about the changes to Careers Wales, and that it was drawing up fresh guidance about their role and responsibility for careers advice.
"The ages of 14-16 are a crucial time in a learner's development and it is important that the advice and support they receive at this time is high quality and right for them," said a spokesperson.