Wales NHS nurse shortage 'compromises care', RCN claims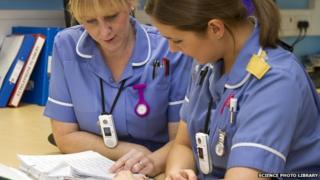 Hospitals in Wales face a shortage of qualified nurses which could compromise patient care, the Royal College of Nursing (RCN) has claimed.
It follows a report about failings at two hospitals run by Abertawe Bro Morgannwg University Health.
The RCN claimed reports of poor nursing standards could damage recruitment.
Chief Nursing Officer Jean White told the BBC's Sunday Politics Wales that enough nurses are being trained.
Tight budgets
The RCN in Wales has accused the Welsh government of failing ensure there are enough training places and claim that has led to an insufficient supply of qualified staff.
Director Tina Donnelly said nurses on the frontline of NHS services were feeling the pressure of tight budgets and inadequate staffing levels.
She said there was no excuse for examples of poor care such as those highlighted in the Trusted To Care review of failings at the Princess of Wales, Bridgend, and Neath Port Talbot hospitals.
It followed the neglect of patient Lilian Williams, 82, from Porthcawl, who was treated at both hospitals.
Ms Donnelly argued that staffing pressures can contribute to poor care.
"Every week now we're hearing areas of poor care in nursing in Wales and we have to get it right for patients and we've got to get it right for the nursing profession," she said.
"You cannot continue to have what we would want as a platinum service of NHS delivery if you don't have the resource to do that."
The RCN pointed to an example of one Welsh health board seeking to recruit nurses from abroad as evidence that there was an insufficient supply of qualified nurses in the Welsh NHS.
Chief Nursing Officer Jean White confirmed that a health board was seeking to recruit internationally, but said it was not unusual, and denied claims of a nursing shortage.
"I feel that the image of nursing might be being tarnished in some respects because of the stories we've heard, the reality's very different to that", she said.
"We do have real excellence in nursing care not only in Wales but in other parts of the UK as well."
Sunday Politics Wales can be seen on BBC One Wales on Sunday, 18 May at 11:00 BST.