S4C ratings part of industry slump, says Ian Jones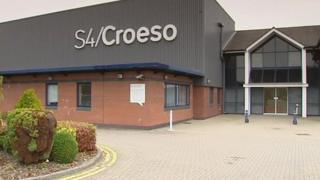 An industry-wide slump in peak-time viewing and a reduction in funding for audience research has contributed to a fall in the S4C's ratings, its chief executive has said.
Ian Jones also says more viewers are choosing to watch the channel online.
He was speaking at a Royal Television Society (RTS) Wales event in Cardiff on Thursday.
Rhodri Talfan Davies, director of BBC Cymru Wales, and Phil Henfrey, head of ITV Wales, also spoke.
Last week the minutes of a meeting of the Audience Council Wales revealed that Mr Davies had concerns about a fall in ratings for S4C, which commissions many of its most popular programmes from BBC Wales and receives the majority of its funding from the BBC licence fee.
But speaking at the RTS Wales event, Mr Jones said the start of 2014 had seen a significant fall in viewers across the television industry.
"In the first quarter of this year every broadcaster in Britain has suffered a fall of around 7% among their peak-time audiences," he said.
"In S4C's case, because of financial savings and a drop of around 36% in our budget, we have had to make cuts. One of those cuts involved reducing the amount of money we pay BARB, the organisation which measures audience size."
Mr Jones said the reduction in audience research funding had occurred around two years ago, and meant that fewer homes were used as part of the BARB sample for measuring audience size.
Mr Jones said BARB had told S4C that the reduction would lead to a minimum drop of 6% in its peak-time viewing figures.
He also said that a significant increase in users of S4C's online service, Clic, would be revealed in the publication of the channel's annual report in a few weeks' time.
Social media sharing
BBC Cymru Wales director, Mr Davies, told the RTS Wales audience that the shift towards online viewing would happen at a faster rate than many people were predicting.
"Broadcasting remains the dominant platform, and a lot of 'research people' will tell you that broadcast channels will absolutely remain pre-eminent, and it's a very gradual change," he said.
"I don't believe that. I actually think we're going through a moment in time right now where the generational shift, in terms of how people use technology, is more dramatic than we have ever seen.
"We've talked about the digital revolution for 10 or 15 years - all we really meant was there were more television channels. But if you see younger people using the media now, they are using it in a dramatically different way."
The change in attitudes towards traditional media was echoed by Mr Henfrey, who is head of news and programmes at ITV Wales.
He said: "People used to go down the pub and say, 'Did you see that on the news?'
"Now they see it and they share it with their friends and contacts through social media, or people end up at a story through their social network," he said.