How Wales shaped Commonwealth Games history in 1958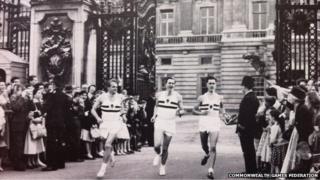 As Wales prepares for its major role in the build up to the Commonwealth Games, a forgotten piece of the country's proud sporting history will once again be back in the limelight.
The Queen's Baton Relay arrives in Wales on Saturday as part of its worldwide tour taking in 70 nations and territories before the opening of the 2014 Games in Glasgow in July.
It travels around Wales for seven days visiting towns in the south Wales valleys before taking in mid, south west and north Wales, and finishing in Llandegla, Denbighshire.
Like the Olympics, the relay is the traditional curtain raiser to the Commonwealth Games.
But few people realise it actually started when Cardiff hosted the event in 1958 - then called the British Empire and Commonwealth Games - many years after the Olympic torch relay was established.
It was intended to symbolise peace and harmony through sports participation.
The Cardiff baton was first carried by athlete Roger Bannister, the first sub-four minute miler, from Buckingham Palace before it headed to Wales and its ultimate destination, Cardiff Arms Park.
And that original baton has now been dusted down from storage in the National Museum Wales archives for a role in the 2014 relay when it will appear alongside its modern counterpart after it touches down at Cardiff Airport.
One of those who carried the original baton was Norman Richards, then an 18-year-old long jumper and triple jumper, who has also been chosen to carry the baton before this year's Games.
Mr Richards, who ran through Tonyrefail on the edge of the Rhondda, recalls a gorgeous sunny day with big crowds lining the route.
"I felt very proud that I was involved in the first baton relay. It was an honour and a privilege," he said.
"I can remember the day. It was a beautiful day and there were crowds through the Rhondda - the Games are probably still the biggest sporting event Wales has put on.
"The streets were lined by thousands of people and the children had the time off from school. It was quite an occasion."
And it was no stroll for those taking part - many of whom were club runners - as Mr Richards, who represented Wales at junior and senior level, recalls.
"It was a traditional relay with people handing on the baton to each other," he said.
"In my case, I ran about three miles.
"It started at Buckingham Palace and came down through Wales and they had to get some mileage from each runner.
"It was literally carried all the way."
While Mr Richards, now 74, enjoyed his role in Welsh sporting history, he unfortunately could not represent Wales in the 1958 Games because he was too young.
But 56 years later, he is delighted to have been chosen to carry the baton again, this time in Aberdare in the Cynon Valley.
"I'm really looking forward to the day. It will bring fond memories," he said.
The original baton has been hidden away from the public gaze ever since those heady days, until Glasgow 2014 provided the impetus to bring it out of storage.
Dr Emma Lile, a curator at St Fagans National History Museum near Cardiff, said it had not been on display because staff had only recently realised its significance.
"We think it was donated on The Queen's orders after the Games," she said.
"It was at the museum during the Games so it seems logical, and it's been in the art department ever since.
"We hadn't realised how significant it was in Wales' sporting history.
"We had an inquiry from the Commonwealth Games committee because they were trying to track down batons.
"We didn't know much about it then but we did realise it was stored there."
Dr Lile has since looked into the history of the Welsh baton and the 1958 relay.
It was designed by Colonel Roy Crouch, who was a Cardiff jeweller and chairman of the medals committee, and it was decorated with a red dragon, daffodils, leeks and crowns.
Setting off from Buckingham Palace, it went through England before heading to every county in Wales over four days.
It travelled more than 600 miles (1,000km) and was carried by 664 runners.
"The route started at Buckingham Palace and it went to Uxbridge, Slough, Maidenhead, Reading - it was quite a long time in England," she said.
"It went into Wales through Shrewsbury then Oswestry, Chirk and into Wrexham.
"It travelled round north Wales then back through mid Wales, Pembrokeshire and into south Wales, and finally into the Arms Park."
There, it was carried into the stadium by sprinter and Wales rugby international Ken Jones, whose identity had been a closely guarded secret.
Jones then handed it to Commonwealth Games Federation president the Duke of Edinburgh who read The Queen's message - contained in the baton - to the crowd.
The Games, involving 35 nations and 1,122 athletes, were then officially opened.
Wales secured a best-ever 11th place in the medal table, winning one gold, three silver and seven bronze.
Dr Lile added: "The Games were certainly a great spectacle.
"It was considered that Wales had done the country proud at the time and it was recognised as a wonderful occasion."