Nile Ranger cleared of M4 sports car drink charge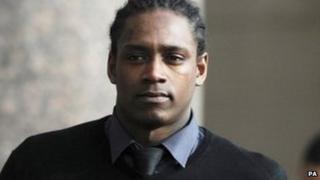 Former Newcastle United and Swindon Town footballer Nile Ranger has been cleared of being drunk in charge of his sports car after he was found asleep behind the wheel on the M4 in Wales.
The England U19 player told Newport magistrates he moved from the back to the driver's seat for extra legroom while waiting for a recovery vehicle.
A friend crashed the car after a night out in Cardiff in February, the court heard.
Mr Ranger, 23, denied the charge.
Magistrates were told the recovery vehicle driver could not wake Mr Ranger when he arrived to tow away the Mercedes car.
'Unresponsive'
It had hit the central reservation and come to rest on the hard shoulder of the eastbound carriageway
Recovery vehicle driver William Purnell said the defendant's three friends, two men and a woman, were also asleep when he arrived.
He said: "There was significant damage to the side of the car. Both wheels were punctured and all four of people inside were sleeping.
"I tried to wake Ranger but he was unresponsive to me shouting. He seemed out of it. There was a strong smell of drink in the car."
The car was taken to Magor services near Newport and police were called.
Gwent police constable Mark Madley told the court: "He (Mr Ranger) said he admitted to being the driver and that he had driven from Cardiff.
Knee injury
"I then gave a roadside breath test which he failed. He then immediately denied being the driver of the car.
"The situation became volatile and inflamed once Ranger failed his breath test and I arrested him."
Mr Ranger was found to have 50 microgrammes of alcohol in 100ml of breath. The legal limit is 35.
He told magistrates he did not know how the damage to the car had happened as he had been asleep and had woken to find his friend calling for a recovery vehicle.
He said: "I had an injury on my knee a couple of months ago and I didn't have a lot of space in the back so I swapped seats.
"I then went straight back to sleep. The engine may have been running for heating because it was freezing cold."
After a two-hour trial, the chairman of the bench Bob Jones told him: "We find that you had no intention to drive that day.
"You are not guilty and you are free to go."