Pensioner poverty forces woman to 're-use toilet paper'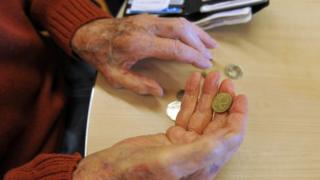 A 91-year-old woman who was so poor she resorted to drying toilet paper on her radiator to use again was claiming less than half the benefits she was entitled to, a charity claims.
A report by Age Cymru claims almost 50,000 elderly people in Wales are living in severe poverty.
Many are suffering by failing to claim their full entitlements, it said.
Jeff Cuthbert, minister for tackling poverty, said tackling poverty remains a key priority.
Age Cymru described visiting the 91-year-old widow with several health problems at her council flat in Swansea.
She was desperately short of money and was drying toilet paper on the radiator to use it again.
Her friends would peel potatoes and put them in a saucepan. Each day she would take one or two and boil them for a meal.
The Age Cymru advisor found the widow was receiving the state pension and a small occupational one from her late husband, and feared eviction if she was unable to pay her rent and council tax.
When the charity told her she was entitled to Pension Credit, free council tax and rent, and help with teeth and glasses, she was so overcome she broke down crying.
After the charity's advice her weekly income more than doubled from £141 to £328. She also saves £78 a week on her rent and council tax.
Age Cymru says the pensioner is just one of many of the nearly 600,000 over 65s in Wales who are suffering. Its report found:
84,000 older people - 14% - live below the poverty line of £220 a week as defined by the Department for Work and Pensions
Just under 50,000 - 8% - live in severe poverty (£183.50 per week or less)
70% of pensioner households in poverty do not receive any major benefits
One third of those eligible are not claiming Pension Credit
200,000 older people report cutting back on food, heating, and social activities for financial reasons
42,000 say they have got into debt
Report author Graeme Francis said: "No-one should be faced with a calamitous reduction in their standard of living when they retire or be resigned to a life where they are forced to choose between basic essentials in order to make ends meet."
Mr Francis said the situation was "preventable", with Age Cymru and its partners helping older people claim £13m in extra benefits, calling on the Welsh government to strengthen its support.
As much as £168m could be going unclaimed in Pension Credit alone, he added.
Minister Mr Cuthbert said: "Tackling poverty remains a key priority for the Welsh government and I am committed to taking forward a number of programmes that lift people out of poverty or stop the risk of them falling into it."
He said the older people's commissioner, free bus travel, and an extra £1m for front-line advice services were helping.