Calls for better supply teacher monitoring and support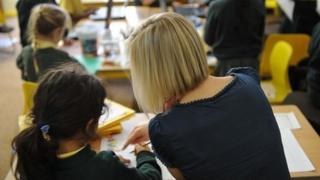 More needs to be done to ensure children's education does not suffer when teachers are absent, a report by the public accounts committee has recommended.
An inquiry found that cover lessons were not being evaluated properly in classrooms around Wales.
And it has urged that supply staff are monitored better and are given more training and support.
It also said head teachers needed to manage teacher absence better.
The Welsh assembly public accounts committee launched an inquiry after two reports published last year said a reliance on temporary cover meant pupils were often given work which was not demanding.
Now it has given the Welsh government 14 recommendations aimed at making improvements.
They include giving supply staff professional development to ensure children receive a consistent, high-quality standard of education, as well as training for head teachers on managing classroom absences.
It also said regulations which require teachers to leave the classroom to attend events linked to Welsh government policies should be reviewed, and better monitoring to ensure schools were getting value for money from supply teachers was needed.
Maintain standards
Committee chairman, Darren Millar AM, said: "No teacher walks into a class with the intention of giving a poor standard of education, but a supply teacher covering a period of absence often has to adjust at short notice to different surroundings and different learners while trying to pick up where the permanent teacher has left off."
"It is surprising then that data on absence and cover is not routinely collected to give a detailed picture of the impact this has on education standards, and we note the Welsh government's acknowledgement that it must do more in this area," he said.
"We also want to see better support for school governors, head teachers and supply teachers in covering absence, including improved access to appropriate professional development, to maintain the standards our school children should expect."
Teaching union NUT Cymru backed the call for more training.
Wales policy officer Owen Hathway said: "When we rely on supply teachers we need to ensure they are given access to professional development.
"With the changes in policy we've had over the last few years, it's a struggle enough for those in the classroom on a day to day basis let alone the supply teachers."
The Welsh government said it would consider the report and respond in due course.