NICE's safe nursing levels guidance considered in Wales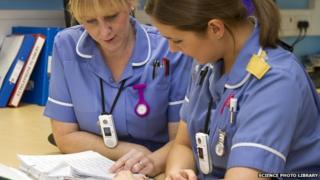 Draft NHS guidance which says patients could be at risk if nurses have to care for more than eight people is to be examined by the Welsh government.
The National Institute for Health and Care Excellence (NICE) said hospitals in England should be wary about that workload being exceeded.
The guidelines do not apply to Wales, but the Welsh government says it will "look at what they are proposing".
Wales has seen the largest rise of nurses in the UK since 1999, it said.
The NICE guidelines say patients are at risk of harm if a nurse has to care for more than eight people on a ward during the day.
However, it stopped short of stipulating one to eight was an absolute minimum, saying flexibility might be required.
The Department of Health said the number of front-line staff had risen.
While individual hospitals are currently allowed to set their own nurse staffing levels in England, NICE was asked to look at the issue by ministers.
They had promised to explore safe staffing levels following the public inquiry into the Stafford Hospital scandal.
NICE said in its draft guidance that in a situation where the recommended ratio of at least one nurse to eight patients had not been met, the hospital should be able to explain why.
'Firmly committed'
The Welsh government said the "guidelines will apply only in England".
A spokesman added: "However, we will certainly take the opportunity to look at what they are proposing.
"We are firmly committed to ensuring safe and high-quality care for patients in Wales.
"The chief nursing officer for Wales has been in discussion with NICE about its development work and has offered insights from our experiences in developing the adult inpatient acuity tool for Wales, which is now available to NHS Wales.
"As the recent Nuffield report on the four health systems of the UK showed, continued investment in NHS staff means Wales has seen the largest rise in the number of nurses in post since 1999.
"In fact, the overall number of nursing staff in post has increased each year between 1999 and 2012."
An extra £10m has been invested in 2013-14 to employ more nurses as part of a range of responses to the Francis report, the spokesman added.
Tina Donnelly, director of the Royal College of Nursing in Wales, said there was "potential for the regulatory body of nursing and midwifery to actually acknowledge that these guidelines would be relevant across the UK in the longer-term".
She said they welcomed a review, adding that last year the chief nursing officer in Wales wrote to health boards "asking them to ensure that there was a number of seven patients to one registered nurse during day time".