Nine writers on Wales Book of the Year short list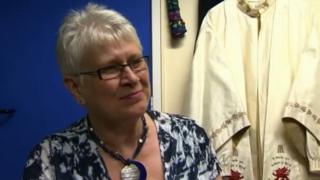 The first woman to become archdruid is one of the authors shortlisted for the Wales Book of the Year.
Christine James, who led the the 2013 National Eisteddfod ceremonies, is in the Welsh-language poetry shortlist.
Nine English-language books have been chosen from more than 100 submitted for categories, including poetry, fiction and creative non-fiction.
Three titles have been short listed in each category in both Welsh and English.
The list was announced on Friday and the winners will be chosen at an award ceremony at Galeri Caernarfon on 10 July.
The categories in English include the Roland Mathias poetry award, fiction and creative non-fiction.
Judges for the 2014 title will include Gareth Miles, Jasper Rees, lecturer Andrew Webb and comedian Nadia Kamil.
Jasper Rees said: "What's been thrilling is not only the high standard of the literature produced by those living in, coming from or writing about Wales, but also the breadth of subject matter.
"Wales and Welshness are of course an abiding preoccupation, but this year's writers have also roamed the continents and the centuries in search of stories."
In the Welsh-language poetry shortlist, Christine James's book, Rhwng y Llinellau, is up against Lôn Fain by Dafydd John Pritchard and Trwy Ddyddiau Gwydr by Sian Northey.
A full list of those short listed can be found on the award's website.