Examining if immigration is an issue for EU election voters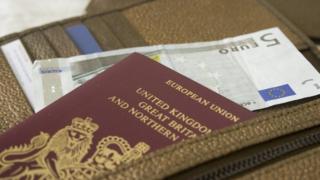 Mention the EU to anyone and it's only a matter of time before the subject of immigration comes up.
Even in Wales, where levels are lower than in parts of England, it's an issue which gets people talking.
As we approach the European elections it has become a central part of the campaign.
Immigration is something I've experienced first hand.
My father's family came to the Cynon Valley around a hundred years ago from a rural part of northern Italy to try to better themselves in the industrial communities of south Wales.
The big difference then was that the valleys were thriving because of coal.
Now it's a very different story. The pits have gone and so have the jobs.
And yet some things are still the same, work is available in parts of the country in hospitality and food production, and the prospects are better here than in countries like Portugal and Poland.
The question is whether the relative lack of well-paid employment in Wales is causing tensions that weren't there before.
There are a few generations separating us, but I've been to meet one of the new wave of immigrants.
His name is Sergio Vieira, a 34 year old Portuguese worker in the food industry, who has been living in Merthyr Tydfil for nearly a decade.
He originally came to the town to work in the St Merryn meat plant but now he and his wife work in a local chocolate factory and on the weekends they make Portuguese cakes to sell in the market.
It's a juggling act, particularly when you throw into the mix that they have two young children.
They have no plans to return to Portugal other than for holidays and possibly to retire.
Migrant population
Merthyr Tydfil is a town which has seen a big rise in the number of immigrants.
Recent figures from Oxford University's Migration Observatory showed that its migrant population rocketed by 227% during a 10 year period to 2011.
Go on the town's streets to get the views from people about the impact of the EU and there is clear unease among many about the level of local immigration.
I spoke to a number of people concerned about job prospects for the younger generation, pressure on health services and the possibility of incomers claiming benefits.
When I put these concerns to Sergio he said:
"Obviously people think we are coming to take their jobs.
"But we are not coming here to take anything from people.
"We have come just to work, to get a life and to have a family.
"It's going to be better for Merthyr because it's better for business because there is more people, different people and different cultures.
"They can learn something from us and we can learn something as well," he added.
The main concern about migrants is whether they are taking jobs that could otherwise be available to local people?
The free movement of labour within the EU has probably been most evident in the leisure and tourism sectors than anywhere.
Justin Baird-Murray, the managing director of the Metropole Hotel in Llandrindod Wells, employs a substantial number of foreign workers.
He said: "There is demand from overseas. You can get students from Spain really quite easily. They want to learn English and they are often very skilled.
"They are often people who are graduates but the labour market is so poor in Spain that they almost see it as a gap year.
"It has benefited us but I do not think it's to the detriment of the labour market locally because we still employ local people in the areas that they want to work in so in reception for example we do not have a single overseas worker because local people like to work in reception."
I asked him whether the employment of foreign workers has allowed him to take on staff cheaply and that if he paid more, then local people would consider working at the hotel.
His answer is that many locals in Llandrindod Wells are not interested in service sector jobs such as being a chamber maid or working in the restaurant.
It touches on the central question in the European election campaign of whether being a member of the EU benefits the economy.
And of course this debate won't stop here with the prospect of an in out referendum on EU membership if the Conservatives win the general election next year.
A list of all candidates and parties standing in the European elections in Wales on Thursday 22, May, is available here.