Judge warns of mephedrone 'epidemic' in south Wales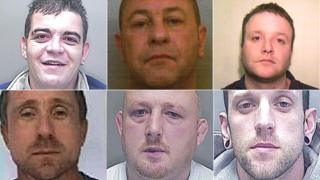 A judge presiding over a drugs ring trial has warned mephedrone has almost reached epidemic proportions in south Wales.
Sentencing seven men involved in conspiracies to traffic drugs, Swansea judge Peter Heywood said that mephedrone, also known as meow meow, has become the "drug of choice".
Two were prison inmates who organised deliveries with mobiles.
Sentences totalling more than 30 years were handed down.
"I have sat in this court regularly and mephedrone has almost reached epidemic proportions in south Wales," the judge said. "It has become the drug of choice."
He had been presiding over a trial at Swansea Crown Court involving Mathew Roberts, 42, from the Maesteg area, who had made calls from Leyhill prison in Gloucestershire and Prescoed in Monmouthshire to co-ordinate deliveries of cocaine to Mathew Pugh, 27, in Port Talbot.
'In control'
Between October 2012 and April 2013 an estimated 1.25kg of cocaine was delivered from Bristol to Pugh by Damien Ramsey, 42, Nicholas Avery, 54, and Jamie Hunt, 33.
All five admitted conspiracy to supply cocaine at an earlier hearing.
Pugh also admitted possessing 3kg of amphetamine and a quantity of cannabis.
During the same period, the court heard, Richard Saltmarsh, 35, was in regular mobile phone contact with Roberts from Rye Hill prison in Warwickshire.
Saltmarsh arranged for Andrew Clay, 39, to organise a meeting with Roberts in Cwmbran, where he would be handed a sample of mephedrone, by another man, Colin Beck, while he was on day release from Prescoed jail.
'Bidding'
Both Saltmarsh and Clay pleaded guilty to conspiring to supply a class B drug - mephedrone. Beck pleaded guilty to being concerned in the supply of class B drugs.
The judge also said it "beggars belief" there was no scanning equipment to detect mobiles being used in jail.
The seven were sentenced as follows:
Mathew Roberts, of no fixed address: Eight years (consecutive to 15 years he is already serving)
Richard Saltmarsh, of no fixed address: Two years, four months (consecutive to 26 years he is already serving)
Damien Ramsey, of Bristol: Six years, eight months
Andrew Clay, of Solihull: Eight months (consecutive to four year, four month sentence he is already serving)
Mathew Pugh, of Port Talbot: Five years, four months (concurrent with other terms)
Jamie Hunt, of Bristol: Five years four months
Nicholas Avery, of no fixed address: Two years
Nicola Rees, from the Crown Prosecution Service in Wales, called it a highly-organised criminal conspiracy.
"Drugs are a blight on our local communities, damaging lives and encouraging other types of criminality," said Ms Rees. "Those who seek to profit from the distribution these substances in Wales should be in no doubt that we will, alongside our partners in the criminal justice system, work tirelessly to ensure that they are brought to justice."