Rail funding 'pretence' dropped, says David Jones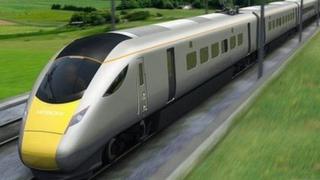 The Welsh government now accepts it will have to pay some of the cost of rail electrification in south Wales, Welsh Secretary David Jones has said.
He told MPs Welsh ministers had dropped the "pretence" that the UK government was solely responsible for funding improvements to the valley lines.
The issue of who pays for valley lines electrification caused a major row.
Shadow Welsh Secretary Owen Smith said David Cameron had previously indicated that his government was funding it.
During the Wales versus Westminster row, the UK government had argued it had agreed to finance the Great Western line from London to Swansea but only if the Welsh government paid for similar work on the valley lines.
Ministers in Cardiff maintained that they had expected Westminster to pay for that work too.
But David Jones told MPs on Wednesday: "It's become very clear now that the Welsh government has thought better about its contribution to the cost of that project.
"There was a meeting a few weeks ago between the Welsh Business Minister Edwina Hart and [UK Transport Secretary] Patrick McLoughlin at which I was present.
"It would appear that the Welsh government has now dropped the pretence that the UK government was to be responsible for the entire cost of electrification.
"That was never on the cards."
Mr Jones added that negotiations between the two administrations were continuing.
However, Mr Smith maintained that both Mr Jones and Mr Cameron had originally given "the impression" that the UK government was paying for the electrification of the main line through to Swansea, including the south Wales valleys.