BBC Cymru Wales chief's concern over S4C's peak-time figures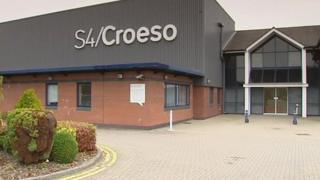 The director of BBC Cymru Wales Rhodri Talfan Davies says he is concerned about a drop of a sixth in those watching S4C's evening programmes.
He said a 17% fall in peak-time figures in two years was "a real worry in terms of providing value for money and serving the Welsh language audience".
Mr Davies added a fall in the number of episodes of Welsh soap opera Pobol y Cwm would further decrease the ratings.
S4C said focusing on one performance measure created an incomplete picture.
Mr Davies raised his concerns at a regular meeting of the Audience Council Wales in March, the minutes of which have just been published.
Most of S4C's funding has come from the BBC licence fee since April 2013 and the BBC will provide £76m for S4C during 2014-15. However, S4C retains its operational and editorial independence as part of the funding arrangement.
BBC Cymru Wales also provides around 520 hours of programming for the Welsh language channel every year.
'Deteriorating'
The Audience Council Wales minutes note that Mr Davies told the meeting that the relationship between the BBC and S4C was "better than ever", but the key issue "was the overall performance of the channel, with audience levels deteriorating faster than the historical trend which faced all broadcasters".
S4C's peak time viewing period is between 18:30 and 21:30 BST and regularly includes episodes of the soap opera Pobol y Cwm and news programme Newyddion, which are both made by BBC Wales.
The Audience Council Wales scrutinises the BBC's services on behalf of BBC audiences and meets regularly to hear from those who manage the BBC's output in Wales. It reports back to the BBC Trust, the corporation's governing body.
S4C chief executive Ian Jones said: "We're in continuous discussions with the BBC regarding the drop in viewer numbers during peak hours, which is very relevant given that the BBC produces around half of the programmes broadcast on S4C during those hours.
"We're consistent in our view that we need to respond to what the audience wants in planning our content. In this regard, S4C's decision to bring the Sunday afternoon Pobol y Cwm omnibus to an end releases finance to enable us to plan a schedule which will be popular with the audience."
Media commentator Steve Hewlett told BBC Radio Wales that audience decline started when S4C stopped showing English language programming.
"If I was Ian Jones I might rue the day I lost access to English language programming that I could make part of my mix which would begin to put pay to some of the pressure he is no doubt getting for a 17% drop in audience ratings, and now, of course, it's funded by the licence fee there are bound to be value for money questions," he said.
Welsh language pressure group Cymdeithas yr Iaith Gymraeg said it was another example "in a series of what appear to be a pattern of cynical attacks by BBC managers on S4C and the Welsh language".
"We fear these minutes were not brought to public attention by coincidence or by accident," a spokesman said.
"Our concern is that the BBC is trying to undermine S4C in order to justify further cuts to the channel in the near future. Naturally, releasing this one statistic about S4C's audience, which doesn't take into account online growth, is going to raise concerns.
"But what are we to expect after the channel suffered massive cuts to its budget as a result of the dirty deal made by BBC bosses and the Tories in London back in 2010?"
A BBC Wales spokesman said: "All Welsh language services - including those from the BBC - have faced particular audience challenges over recent years and BBC Wales' director has been very open about this.
"S4C and BBC Wales management teams are in regular discussion to address what is a shared challenge.
"The success of Y Gwyll/Hinterland, the renewal of the Newyddion 9 news programme, as well as plans to launch S4C on BBC iPlayer later this year, all demonstrate the strong and creative relationship that exists between BBC Wales and S4C."
'Hugely successful'
Montgomeryshire Conservative MP Glyn Davies told MPs a "fair degree of certainty" over S4C's budget was needed if more programmes like Hinterland were to be made.
Leading a Westminster Hall debate on S4C and Welsh identity on Wednesday he said: "Now, actually most of S4C's budget comes from the licence fee and that is probably fairly certain.
"But still a certain amount of money comes here from the Westminster government, from DCMS (Department of Culture, Media and Sport), and that isn't guaranteed.
"It's guaranteed for a limited period but a programme like Hinterland will have taken, from the first discussions of delivering it until it is delivered, at least two years.
"So in order to make commitments to a programme like that, that's a hugely successful programme which is going to be internationally successful, there's got to be a fair degree of certainty."