Welsh Ambulance Service: 999 dialled 290 times from one home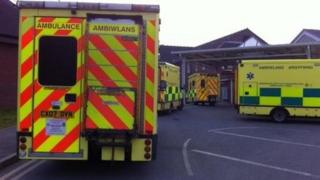 The Welsh Ambulance Service is urging people to think before dialling 999, after one home rang for an ambulance 290 times in a year.
Of the call-outs to the property in Colwyn Bay, Conwy, 98 resulted in hospital visits.
The service spent 3,660 hours dealing with the "top 10" frequent emergency callers in north Wales last year.
It said 999 should only be used if someone is seriously ill or in a life-threatening emergency.
The plea came after a Freedom of Information request revealed the locations of the most frequent emergency ambulance callers in north Wales.
The figures are based on calls to single private addresses and exclude nursing or care homes.
'Educate the public'
They reveal that 159 emergency calls for an ambulance were made from one address in Shotton, Flintshire, between March 2013 and February 2014, resulting in only two visits to hospital.
Richard Lee, head of clinical services at the Welsh Ambulance Service, said: "Last year, crews spent more than 3,660 hours providing care and assistance to the top ten frequent ambulance 999 callers from each of the seven local health boards in Wales.
"All of our frequent callers have genuine clinical needs, and many suffer with long-term medical or social problems.
"As the ambulance service provides an emergency medical service designed to provide immediate treatment and intervention to life-threatening or serious problems, many of our frequent callers needs are not best met by an ambulance or paramedic.
"We have identified that more could be done to educate the public on the appropriate use of 999 and to help patients access the right service at their time of need."
The service is working with other agencies to "address the number of frequent callers to the service".
Lives at risk
Mr Lee said one patient, within the Cardiff and Vale University Health Board's catchment, rang the ambulance service more than 50 times in 2013.
The man no longer dials 999 after the ambulance service, working with others, secured him an urgent appointment with a hospital consultant.
The Welsh Ambulance Service has also joined the UK Ambulance Services Frequent Caller National Network (FRECANN), which it says allows it to share best practice.
Mr Lee said many people who dialled 999 received treatment but did not end up travelling in an ambulance.
There is still concern that people dialling 999 for minor conditions - including colds and toothache - are putting the lives of genuine emergency patients at risk.
Mr Lee added: "Please remember to only dial 999 in a life-threatening emergency, if someone is seriously ill or injured or their life is at risk."
'Top ten' 999 callers in north Wales
Number of 999 callouts
Callouts resulting in a hospital visit
One caller from Colwyn Bay
290
98
One caller from Shotton
159
2
One caller from Wrexham
91
55
One caller from Rhyl
79
6
Second caller from Rhyl
75
6
One caller from Flint
75
65
One caller from Corwen
74
1
One caller from Abergele
65
37
Second caller from Abergele
57
26
One caller from Holywell
53
13