European elections: Small parties hope for gains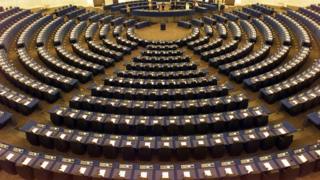 Smaller political parties in Wales could gain valuable publicity during the European election campaign.
There are 11 parties from across the political spectrum competing for four Welsh seats in the European Parliament.
Voters go to the polls on 22 May and MEPs elected will represent their constituents for the next five years.
The Green Party, BNP, socialists and communists are all part of a campaign centred around Britain's membership of the European Union.
The Greens want a "roadmap for real change".
In the last European election in 2009 the party came sixth in Wales, with 5.6% of the vote.
Its candidate and Welsh party leader Pippa Bartolotti said there was a lack of democratic accountability within the EU.
"We really want to stand up against corporate interests in Europe and get back to a democracy and a Europe of the regions because you can't make one rule to fit everything," said Ms Barolotti.
But she argued that without Europe, Wales would be a "crueller" and "dirtier place".
In 2009, the BNP received around 1,000 fewer votes than the Greens in Wales, but in England it won its first two seats in the European Parliament, including one for party leader Nick Griffin.
Candidate Mike Whitby said: "Our main message is the people of Wales should rule Wales.
"At the moment, parliament is ruled by foreigners, interlopers and the sons and daughters of those people and most of them are millionaires, they're not real people."
He said those in charge wanted to "destroy" British people.
At the opposite end of the political spectrum No2EU, a coalition of the Communist Party of Britain and the Rail, Maritime and Transport Union, believes the European Union is a threat to workers' rights and public services.
Candidate Robert Griffiths said: "Most of the parties take a broadly similar pro-EU position whereas we're very clear, it's an anti-democratic big business club.
"That's what traditionally a large section of the left and even of the centre ground has believed in Britain.
"Unfortunately there's not much opportunity on the media to put that case forward and we don't think that the anti-EU case should be dominated by the right and the far right."
Anti-EU Socialist Labour Party wants to end nuclear power, create full employment and put banks under public ownership.
"The European Union has undermined and sought to replace our democracy and has dictated policies that have led to mass unemployment," said candidate Andrew Jordan.
"Other parties in this election will carry on the European Union's austerity agenda. Only the Socialist Labour Party is seeking to bring prosperity to communities across Wales."
The leaderless Socialist Party of Great Britain wants "real socialism" and claims mainstream parties break promises and accept an unfair society.
Candidate Brian Johnson said: "What the Socialist Party stands for is a stateless, classless, leaderless world, a world without money, free access to the means of living and production for use on a global scale.
"Such a system is not going to operate just purely at a national or European scale. We're looking far beyond Europe, we're looking at the globe in its fullest perspective."
Paul Golding, chair of Britain First, which calls itself a "patriotic" and a "street defence organisation", said: "It doesn't matter because our people, the British people, are going to be a minority in our own country within a few short years and that is a big problem and we're standing in this election to highlight it."
The Electoral Commission has apologised for allowing Britain First to use the name of murdered soldier Lee Rigby to be used on ballot papers.