Patient complaints to Wales' health boards soar, figures show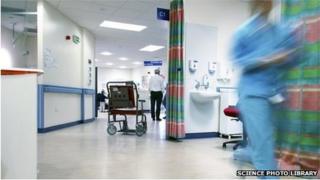 Serious concerns have been raised over the increase in the number of patient complaints to health boards in Wales.
Figures, obtained by Plaid Cymru, show between 2009-10 and 2012-13 complaints soared by more than 40%.
Cardiff and Vale University Health Board received 7,200 since 2008, while Hywel Dda Local Health Board had 5,665.
The Welsh government said patients were "engaged" with the health service and gave it a "valuable" opportunity to learn from their experiences.
Plaid Cymru health spokeswoman Elin Jones gathered the data via a Freedom of Information request.
In Abertawe Bro Morgannwg complaints rose from 298 to 858 in five years
Cwm Taf saw figures rise from 166 to 551
Aneurin Bevan saw a rise from 617 in 2008 to 964 in 2014
In Betsi Cadwaladr complaints rose from 1,330 in 2011 to 1,577 in 2014
In Powys 282 people complained in 2008 compared with 236 in 2013
The area of clinical diagnosis and treatment received the highest number of complaints.
Ms Jones said the rise in complaints had been significant.
"It is crucial that lessons are learnt when any failing has been identified and action taken to prevent that re-occurring and experiences passed to all various health boards," she said.
"I fully accept the number of complaints represent a small proportion of those treated within the NHS and the vast majority of staff do fantastic job. But they are hampered by too few staff and too much paperwork."
A Welsh government spokesman said the majority people are happy with the care provided.
"However, when things don't happen as they should, the NHS in Wales must listen, learn and take action," he said.
"A rise in complaints demonstrates that patients are engaged with the health service and they provide health boards with a valuable opportunity to act on and learn from their experiences."