Syphilis cases on the rise across north Wales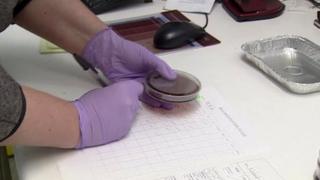 There has been a huge rise in cases of the sexually transmitted infection syphilis in north Wales, according to health experts.
Since the middle of 2013, 39 cases have been reported to Public Health Wales (PHW) in the region, when there are usually only around seven a year.
PHW said the increase in cases was first seen on Anglesey but they are now across north Wales.
The bacterial infection can be treated with antibiotics.
PHW said it was working with Betsi Cadwaladr University Health Board to prevent and control the growing number of infections.
Chris Whiteside, consultant in communicable disease control for PHW, said: "We urge anyone with symptoms or who may be at risk of infection to attend their local district general hospital based sexual health/ genitourinary medicine (GUM) clinic to be tested."
She added: "People with syphilis may develop painless ulcers in their genital or mouth area. They may also develop a rash over their body, palms of the hands and soles of their feet.
"These symptoms may disappear without the person being aware of them, but they will remain infected and risk infecting other sexual partners.
"The symptoms of tertiary syphilis, which will occur many years after acquiring infection, can be dangerous enough to cause death."
Ms Whiteside said syphilis could be cured with a course of antibiotics and the best way to prevent it and other sexually transmitted diseases was to use a condom.