Call for defibrillators in public buildings in Wales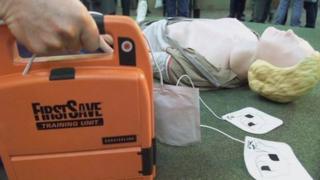 Defibrillators should be placed in all public buildings in Wales, according to a petition heard by a National Assembly committee.
It calls for more help to ensure faster treatment for people who have a cardiac arrest.
Defibrillators (defibs) can deliver an electric shock to the chest to restore a person's heart to a normal rhythm.
Campaigner June Thomas, whose son Jack died in 2012, described defibrillators as "life-saving equipment".
Ms Thomas's son died suddenly at the age of 15, and a defibrillator was used on him, but the cause of his death is still unknown.
'Life saving'
The 6ft 3in teenager from Oakdale, Caerphilly, had represented Wales at Taekwondo, was an accomplished rugby player and cricketer and he died in his girlfriend's arms while drinking tea and watching rugby on TV.
His mother has campaigned for the machines to be installed in comprehensive schools, and backs the petition.
She told BBC Radio Wales: "You've got laws in Wales that you have to have a fire extinguisher but you haven't got a law to have a defib.
"You've got more chance of somebody having a heart attack than the building catching on fire."
She said training is not required to operate the machines, which give recorded instructions, and they will not administer shocks unless they are needed.
She added: "It's life-saving equipment."