South Wales policemen Stephen Phillips and Jason Evans jailed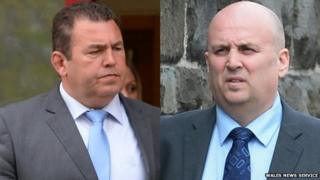 Two South Wales Police officers have been jailed after being caught stealing in an undercover sting by their own force.
Det Sgt Stephen Phillips stole £250 cash and Det Con Jason Evans took two pens, Cardiff magistrates heard.
The pair were found out when colleagues staged a fake undercover operation at a house in Neath.
Evans, 44, from Cilfrew, was jailed for 12 weeks while Phillips, 45, from Skewen, received 22 weeks.
Both men face fast-track dismissal proceedings and are expected to lose their police pensions.
District Judge Bodfan Jenkins said: "The public expect and is entitled to expect the highest level of trust in police officers.
"Both of you fell seriously short of that expectation.
"Your behaviour was breathtakingly arrogant. You thought your rank, experience and authority would protect you.
"The amounts were not large. In the case of you Evans, it was infinitesimal but the significance of the act far outweighs the cost."
The Neath-based officers were in a team investigating organised crime and the force carried out an "intelligence-led integrity test" on them.
It pretended it had been asked by Greater Manchester Police to investigate a property allegedly linked to a series of burglaries.
The house contained "evidence" including Viagra, mobile phones, watches and £21,647 in cash.
Prosecutor Andrew Kendall said: "Phillips was filmed putting his hand inside a coat pocket and finding £240.
"He removes his hand and leaves the scene - but then returns 20 seconds later when he removes the cash and places it in his pocket."
Phillips also took £10 from a bedside table. All the notes were marked with invisible ink.
Evans was filmed going into the bedroom and taking two pens during the raid last month.
The court heard Phillips claimed he was going to return the money to the woman who lived at the house - who he did not realise was an undercover detective.
The pair both pleaded guilty to theft.
Evans had served as an officer for 19 years and Phillips for 26 years. Both have been commended in the past.
Catrin Evans, from the Crown Prosecution Service, said officers "abused a position of trust".