Calls for National Dance Company Wales chair to resign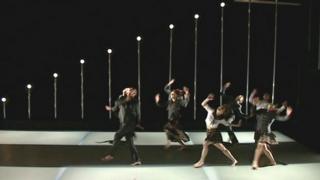 There are calls for the National Dance Company Wales (NDCW) chair to resign after a report was highly critical of how the organisation was run.
But Andrew Davies insists he should stay and oversee the appointment of a new board and management.
The Arts Council of Wales (ACW) ordered the independent report, seen by BBC Wales, after a period of instability and hostility at NDCW.
It found the board was "unable to function in an appropriate manner".
Former Welsh government minister Mr Davies denies failing in his responsibilities as chairman.
'Crisis'
Independent consultants were called in following a breakdown in relationships between board members and among the senior management team.
The report determined that "the company is facing a crisis in its governance and its management", calling the situation unsustainable.
It recommended the old board step down and that Mr Davies and two other directors oversee the appointment of a new board by January 2014 before leaving.
The crisis last year resulted in the resignations of NDCW's founders, Ann Sholem and Roy Campbell-Moore, as well as five of eight directors.
Mr Davies said: "When the report was considered by the Arts Council back in the autumn the five members decided, (following the) criticisms of the governance, that they wished to resign and that was their choice.
"But I absolutely reject any accusation that my stewardship was wrong. In fact, if that was the case the Arts Council wouldn't be asking me to take forward the restructuring of the company."
But Christine Lewis, another member of the board who resigned, said it was time for Mr Davies to step down too.
She said: "I do think it's time for Andrew Davies to go and I think as much as the Arts Council might have thought that it was the best solution to have him provide stability, the company by that point was already completely destabilised."
'Right person'
Mr Davies said the restructuring process was continuing and he wanted to remain until the new management structure was completed.
"I'm proud of what the company have done and I think Wales should be proud of the national dance company. I want to see the transition through, and then hand on to somebody else," he said.
ACW chief executive Nick Capaldi said he supported Mr Davies's decision to stay in post as "the right person.... to see the company through this current period."
He added: "We were very clear that there needed to be continuity and strong leadership, even during this period of change, because the company still has a busy programme of work to do."
A statement released on behalf of the five board members who stepped down said "transitional arrangements" made at the company were inadequate.
"We would have hoped that the interim leadership would be dynamic, knowledgeable, well connected, and with a strong artistic spine to uphold and develop a new model which would have credibility in the national and international dance world," the statement said.
"Our understanding is that there have been no new appointments to the board or artistic management to carry through these fundamental changes."
NDCW was founded as Diversions in 1983 by husband and wife team Mr Campbell-Moore and Mrs Sholem, and awarded national status in 1999.
It received £875,000 in funding from ACW in 2013/14, around 85% of its income, and will receive £853,125 in 2014/15.