Cynon Valley AM Christine Chapman to stand down in 2016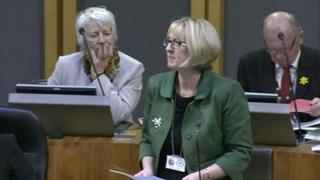 Cynon Valley assembly member Christine Chapman has announced she will be standing down at the 2016 election.
Ms Chapman has represented the seat as a Labour AM since 1999.
She said: "It has been an enormous privilege to serve the people of Cynon Valley."
The chair of the assembly's communities, equality and local government committee, also thanked her constituents, staff and the Labour party for their support.
She was Deputy Minister for Education, Finance and Local Government from 2005 to 2007 and in 2000 was Deputy Secretary for Education and Economic Development.
She has chaired the Welsh assembly's Objective One Programme Monitoring Committee and represented the Welsh assembly on the Committee of the Regions in Brussels for six years.
The AM is currently chair of the cross-party Women in the Economy Group.
A former youth worker and secondary school teacher, Ms Chapman has been a longstanding campaigner with the Sdim Curo Plant! Children Are Unbeatable! Alliance to ban the smacking of children.
She has chaired both the petitions and children and young people committees.