Rise in September 2013 university starters in Wales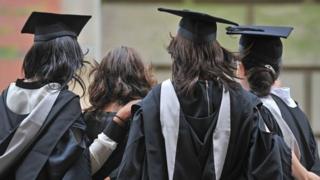 The number of people starting university in Wales last September rose 6% on the previous 12 months.
The Universities and Colleges Admission Service (Ucas) said Welsh institutions accepted 25,511 applications.
Almost half of those accepted were from Wales, however that amount was slightly down on 2012's entry.
Figures also showed rises in the number of foreign students studying in Wales and Welsh students choosing to study at other UK universities.
The Welsh government welcomed the statistics saying it shows Wales is an attractive place to study.
A spokesperson added: "This also proves that our tuition fee policy is right for policy for students and is right for institutions in Wales who will have access to additional income.
"This news continues to demonstrate that the most equitable student finance system we've ever had in Wales continues to be affordable and sustainable."
'International destination'
Biological sciences were the most popular subject with almost 3,500 starting degrees.
The figures also show 19,663 students from Wales were accepted to UK institutions, up 2%, while the number going to English universities rose for the fifth consecutive year - a 1% rise.
Of those opting to stay in Wales, they made up 48% of the total starting their studies at Welsh institutions last September.
A spokesperson for Higher Education Wales said: "In an increasingly globalised world, the statistics also re-emphasise the growing attraction of Wales as a premier international destination for students."
Ucas says applications for this September so far are up 3% with the final applications being accepted in June.