Crime falls by 3% in Wales, official figures have shown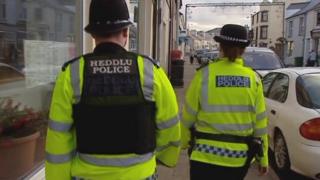 Overall recorded crime in Wales fell by 3% in 2013, according to official figures.
The total number of offences recorded by the four forces in 2013 was 173,147, the Office for National Statistics (ONS) has said.
Dyfed-Powys Police and North Wales Police saw a drop of 7% while South Wales Police recorded a reduction of 1.5%.
But it rose by 1.6% in the Gwent Police area.
Individual forces saw some sharp increases in levels of recorded violent crime, including a 26% spike for Gwent Police and 13% in south Wales.
The level of violent crime in north Wales fell by 4%.
However, figures have shown there was a 25% increase in the number of recorded sexual offences across the forces.
Robberies fell by 8%, burglaries were down 9% and drug offences dropped by 8%.
However, there was an overall rise in shoplifting, criminal damage and arson.
Across the whole of England and Wales, the actual number of crimes recorded by police forces crept up slightly, by 0.3%.
RECORDED CRIME WALES
Police Force
Dec 2013
Dec 2012
Change
% Change
Dyfed-Powys
18,535
20,006
-1,471
-7.35
Gwent
34,984
34,436
548
+1.59
North Wales
36,532
39,434
-2,902
-7.36
South Wales
83,096
84,384
-1,288
-1.53
TOTAL
173,147
178,260
-5,113
-2.87
But according to figures published on Thursday by ONS, the level of reported crime measured in the Crime Survey for England and Wales, fell by 15% - the lowest level since the survey began in 1981.
The CSEW figures estimate crime levels based on how many people say they have been victim of a crime, rather than relying on crimes recorded by individual police forces.
About 50,000 households are invited to take part in the survey every year, and the results are considered to give a better picture of actual crime levels than just police figures alone.