Agoraphobic benefits cheat Tracy Johnson jailed for year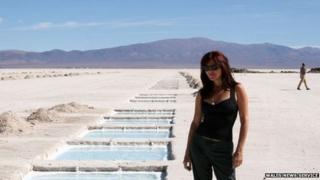 A benefits cheat who claimed to have a fear of open spaces has been jailed for a year after being caught working as a tour guide in South America.
Former model Tracy Johnson, 52, claimed she was a "prisoner in her own home" suffering from severe agoraphobia.
She was found guilty at Merthyr Crown court of fraud, falsely claiming £48,000 in benefits.
Johnson, of Frome, Somerset, claimed the benefits from her mother's home in Builth Wells, Powys.
The published author will not have to repay any of the money she falsely claimed - other than the £600 she has already paid - because it has all been spent.
She was convicted earlier this month after a jury heard of her "champagne lifestyle", which included travels to Argentina, New York and Madrid.
'One spoilt girl'
On her last trip to India, Johnson received cold-weather payments as temperatures in Powys dropped below freezing.
Judge Andrew Grubb told her: "Your actions amounted to a sustained and multiple benefit fraud involving a substantial amount of public money to which you were not entitled."
The judge revealed that after Johnson was found guilty last month he received an email from a "person in Argentina" who confirmed she was working there as a tour guide.
Jurors were previously told Johnson claimed she had been left "prisoner at home" and had not left the UK for years because she was agoraphobic, suffered depression, hallucinations, anxiety, blackouts and post traumatic stress disorder.
The Benefits Agency believed she was housebound because of her medical conditions and was living in Brighton, Sussex.
But Johnson, who has also written novels, had posted on Facebook: "I am one spoilt girl. Early lunch in the Himalaya Spa. Lunch here would be two week's wages in India."
'Blatant dishonesty'
The fraudster told the jury during her trial: "I am entitled to a little break. I think I'm entitled to go and sit on a beach in Goa.
"But you can sit on a beach in Goa watching the sunset and still be in a pretty desperate state."
While in Argentina she set up a tour company taking trekkers on expeditions to the vineyards and mountains.
The writer claimed she was suffering from agoraphobia brought on by post traumatic stress disorder after witnessing the 9/11 terrorist attacks of 2001 while she was living in New York.
The judge told her:"You spent time in the USA and Argentina operating a travel guide business and wrote a book.
"You travelled and lived abroad while receiving benefits."
She was found guilty of 13 charges of fraud, dishonestly making a false representation and dishonestly failing to notify a change in circumstances between January 2008 and July 2012.
Prosecutor Joanna James told the jury: "Tracy Johnson was living the life that honest, decent, hard working taxpayers could only dream of.
"While workers were going out to do their daily grind, she was shopping in New York or having a few days in Madrid."