Two schools reach final in new classroom competition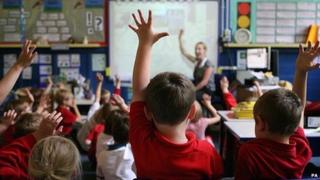 Two schools from Wales have reached the final in a competition to win a brand new classroom worth £80,000.
It is run by the Times Educational Supplement and this year it had more than 600 entrants.
The two Welsh schools on a shortlist of five in the UK are Myrddin Special Unit in Carmarthen and Ferndale Community School in Rhondda Cynon Taf.
People are asked to cast their vote for their favourite school and the competition closes on Sunday.
Myrddin special unit in Carmarthen has around 30 children with severe learning difficulties and has a specialist autistic unit.
The school needs a lot of specialist equipment to help its pupils, the vast majority of which is paid for through fundraising.
At the moment, the school is trying to raise £20,000 for new equipment but it has nowhere to put it. The only room big enough is being used as an activity suite.
'Bustling environment'
Winning a new classroom would give the extra space, and mean the children could work in the quieter surroundings they need.
The piece of equipment the school is hoping to purchase through its appeal would encourage literacy and numeracy, mobility and communication skills, said teacher Ceri Lilly.
Sarah-Louise Powell's six-year-old triplets use the unit.
She said: "In a bustling environment they can't learn in the same way, especially children with autism - my three boys are autistic - so for them it would be good because they'd have the peace and the quiet to direct their learning abilities."
Ferndale school has also reached the final of the competition.
In the past year it has made impressive progress in the school banding system, jumping from band five to one.
Pupils have decided that they would use the new classroom to help the community. Kate, one of the pupils, said: "We consider the school to be the heart of the community.
"However, lack of funding limits our support to just the students in the area. If we were lucky enough to win this competition it would allow us to branch out and provide support for all areas of the community."
The school plans to use the new classroom to open a community crèche and health centre.