Ex-Remploy workers' £2m support grant extended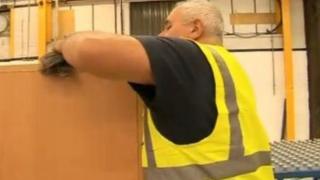 A scheme to help disabled people back into work following the closure of Remploy factories is being extended using £2m in Welsh government funding.
The company employed around 400 people at nine sites across Wales before the UK government closed them two years ago saying money could be better spent.
A total of 221 workers have found new work using the Welsh government scheme which provides support grants to firms.
The funding was due to end this month but will now continue until September.
Remploy opened its first factory in Bridgend in 1946 employing disabled ex-miners to make furniture and violins.
Ex-workers at the Swansea factory invested their redundancy money in a co-operative on the same site at Forestfach making furniture and now employ 15 former staff.
'Sleepless nights'
Former factory manager Kevin Edwards, who is now the managing director of Accommodation Furniture Solutions, said: "It is commercial viable.
"There are lots to look forward to - there is a bright future," he said, adding that there have been a "few sleepless nights".
There has also been a management-led buyout at a factory in the Rhondda.
Another in Wrexham is currently being demolished to make way for a building development.
The Welsh government says the panel that decides who receives its employer support grant (ESG) - a wage subsidy - has approved 177 more posts, "giving hope to disabled former Remploy staff still searching for work".
It has also supported the start-up businesses founded by former Remploy workers.