Ty Hafan hospice care boss denies sleepover 'ultimatum'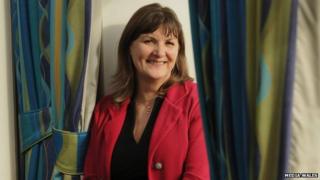 The director of care at a children's hospice has told a hearing it faced closing down unless staff had access to the room of a dying 14-year-old.
Jayne Saunders, of Ty Hafan at Sully, in the Vale of Glamorgan, denies claims of professional misconduct.
Giving evidence on Monday, she denied giving the girl's family an ultimatum to allow access to the room or they would have to leave.
She told the hearing in Cardiff: "That's not what happened."
The Nursing and Midwifery Council hearing has heard the girl, known as Child S and who had leukaemia, became distressed at the way she was treated.
On Monday, Ms Saunders, who denies all allegations, told the hearing that "parents sometimes caused conflict".
In the case of Child S she said: "There were difficulties. They spoke about their perception of care that Ty Hafan should be providing and they were very vocal in saying they would be contacting the press and their local AM."
Much of the evidence focused on meetings held in March 2008.
They happened after Child S's mother raised concerns about a red mark on her daughter which could have indicated pressure sores.
The hearing was told that at meetings with Health Inspectorate Wales, the overall regulator for Ty Hafan, Ms Saunders raised concerns for the care team.
She said the team did not have "enough access to Child S's room" and "could not make nursing assessments or monitor Child S' clinical condition".
She also said there were concerns over the behaviour of Child S's father after complaints from nurses.
Ms Saunders said the family were told there was an action plan [for the teenager's care] and if the the care team were not able to gain access to the room, Ty Hafan would be in "breach of regulations" and could be "closed down in 72 hours".
'Donations'
It was put to Ms Saunders that Ty Hafan relies on donations and if it closed it would have a huge impact on its position and publicity. She agreed it would.
It was also put to her that she subsequently issued the family of child S an ultimatum that they had to consent and allow access to the room or they would have to leave.
Ms Saunders became upset at this point and said: "No. That's not what happened."
She told the hearing that communication with Child S's parents "was very difficult, and that Mr S, who did most of the communicating, found it difficult to listen or let someone finish a sentence".
The panel was also told that Child S wanted to have a few friends for a sleep-over at the hospice for her birthday.
Sleepover
Ms Saunders said that while they wanted to give Child S the birthday she wanted "there was the problem with the age of the girls and the fact that another child was receiving end-of-life care and there would have to be a risk assessment".
She was asked if she had rolled her eyes and was dismissive.
She replied: "No, I don't. There was no way I wanted to be disruptive."
It was also put to her that she used the sleepover as a a bargaining chip to make Child S agree to assessments.
She replied: "No I didn't."
The hearing has heard 14-year-old wrote to the children's commissioner, an office which acts for children's rights, and permission was granted the day before her birthday and the sleepover went ahead.