National Museum Cardiff stages James Dickson Innes exhibition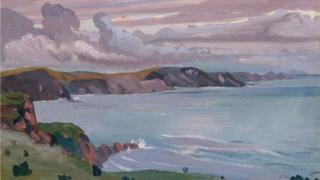 The work of a little-known Llanelli artist, described as the missing link between JMW Turner and David Hockney, is being unveiled in a new exhibition.
James Dickson Innes died of TB at just 27 in 1914, but his brief career produced paintings which now hang in galleries around the world.
He predominantly painted Welsh landscapes, in particular the mountains around Bala lake in Gwynedd.
National Museum Cardiff is unveiling an exhibition of his work.
According to Anne Pritchard, senior art curator at the museum, his style is a blend of techniques which makes Innes impossible to pigeonhole.
"He painted much of the same breathtaking scenery as Turner had a century before, and you can definitely see Turner's romanticist influence in Innes' work," she said.
"But Innes' use of bold, thickly-applied colour was unusual in Britain at the time, and has far more in common with Continental post-impressionists like Matisse.
"Among the general public Innes isn't nearly as well-known as he deserves to be, but he's definitely had a significant effect in art circles.
"You can argue that his techniques indirectly influenced the artists who followed, like David Hockney for instance."
Innes' life was no less colourful than his paintings.
Born in Llanelli in 1887, he was the son of notable Scottish historian John Innes.
In 1905 he won a scholarship to join the Slade School of Fine Art in London and after graduating, studied and worked in Paris.
Love interests
His time in France undoubtedly informed his later style, but it also had a profound effect on his personal life.
While he was there he met the love of his life and wife of a fellow artist, Euphemia Lamb.
"Innes was part of a highly incestuous circle which included his life-long friend Augustus John, Euphemia, and her husband Henry Lamb," added Ms Pritchard.
"They were all involved in a tangled web of affairs with each other.
"But by 1911 Innes and John had become slightly obsessed with capturing the beauty of north Wales by living a spartan, gypsy lifestyle off the land."
Ms Pritchard said Euphemia Lamb went to stay with him, but the lack of luxuries wasn't to her liking.
But as well as harming his love interests, Innes life on the road was also damaging his health, as by now he had been diagnosed with TB.
As time ran out for him, it ushered in the most creative, and yet tragic period of his career.
"It is such a shame that we lost Innes so young, but without his illness we would probably never have had his brilliant mountain landscapes," Ms Pritchard said.
As well as featuring privately-owned paintings which have never been displayed in public before, the exhibition to mark the centenary of his death also includes lectures on Innes' life, painting workshops for children, and a tour of the Arenig landscapes encapsulated in his work.