Tregaron library stays open after council climb-down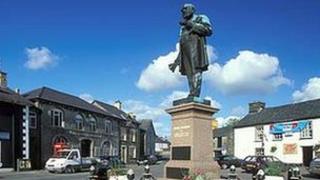 The people of a Mid Wales town have won their battle to keep their local library open.
Ceredigion council's cabinet had decided to close Tregaron library as part of its aim to save £9.6m this financial year.
It planned to replace the six-day-a-week service with a mobile library at the town three days a week.
But the local authority has now agreed to keep the library open three-days-a-week.
More than 100 people who attended a public meeting in the town in January hatched a plan to keep the library based at the town's secondary school open.
They asked Ceredigion council to allow a librarian to open the service for three weekly two-and-a-half hour sessions.
'Volunteers'
Tregaron's county councillor, Catherine Hughes, said: "Although we will now have a reduced service at least we have managed to keep the library open three times a week.
"We will look to increase the service in the future with the use of volunteers."
Ceredigion council's cabinet decided to close libraries at Tregaron and New Quay and provide a mobile library van service in the two towns in January.
These cuts, along with reducing the number of the county's mobile libraries from five to four and axing two jobs aimed to save the local authority £146,000 this year.
The future of New Quay library was secured for the next 12 months in March after the county council's cabinet agreed to lease the library to the seaside town's council at a peppercorn rent.
A 600-signature petition opposing the library's closure resulted in 25 volunteers coming forward to help run the facility.
A Ceredigion council spokesman said the local authority would continue to provide a library service in Tregaron.