Agoraphobic benefits cheat Tracy Johnson travelled world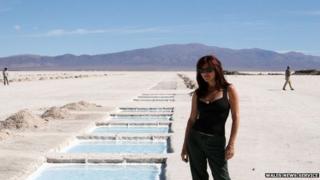 A woman who travelled the world but told officials she was an agoraphobic has been found guilty of falsely claiming almost £50,000 in benefits.
Tracy Johnson, 52, said she had a fear of open spaces and had not left the UK for years.
She was found guilty of 13 charges after Merthyr Tydfil Crown Court heard she lived a "champagne lifestyle".
Johnson, of Frome, Somerset, claimed benefits from her mother's home in Builth Wells, Powys.
The charges included fraud, dishonestly making a false representation, and dishonestly failing to notify a change in circumstances between January 2008 and July 2012.
The jury convicted her after hearing of her travels to Argentina, New York and Madrid.
On her last trip to India, Johnson received cold-weather payments as temperatures in Powys dropped below freezing.
Luggage tags
The court heard Johnson claimed she had been left "prisoner at home" and had not left the UK for years because she was agoraphobic, suffered depression, hallucinations, anxiety, blackouts and post traumatic stress disorder.
The Benefits Agency believed she was housebound because of her medical conditions and was living in Brighton, Sussex.
She was arrested after an anonymous tip-off and police found luggage tags from a trip to India on her suitcases as well as receipts, flight confirmations and hotel reservations along with a diary of her travels.
The court heard one of her social media postings read: "I am one spoilt girl. Early lunch in the Himalaya Spa. Lunch here would be two weeks' wages in India."
She has previously described Buenos Aires as "magical - like a new lover".
Johnson, who represented herself, denied the offences, and claimed several withdrawals from cash machines in Argentina over a six-month period had been made by someone who had "copied" her card.
Terror attacks
Yet there were no transactions in the UK for shopping over the same time period.
Johnson maintained this was because she had been "bedridden" and had not used her card to buy things.
But the jury was told transactions in Argentina suddenly stopped appearing on her bank statements, while others in the UK began, after she returned from South America.
Johnson who was in New York at the time of the 11 September attack on the Twin Towers blamed the experience for giving her post-traumatic stress disorder.
She also said that thousands of pounds going into her account was a "gift" from her elderly mother, and claimed that purchases made with her card in Anne Summers, women's lingerie outlet Victoria's Secret, and to cosmetics firm L'Oreal had been made by her then teenage son.
'Daily grind'
Joanna James, prosecuting, said: "Tracy Johnson was living the life that honest, decent, hard-working taxpayers could only dream of.
"While workers were going out to do their daily grind, she was shopping in New York or having a few days in Madrid."
At one point during the trial Miss James asked Johnson: "Did your benefits pay for a four-month trip to Argentina?"
Johnson replied: "I suppose so."
She added: "If anyone thinks I was living a dream lifestyle for the past few years I want to say I was not. It was pretty horrific for most of the time."
On the trip to India, she told the jury: "I was entitled to a little break. I think I'm entitled to go and sit on a beach in Goa.
"But you can sit on a beach in Goa watching the sunset and still be in a pretty desperate state."
Recorder Andrew Grubb warned Johnson to expect a custodial sentence.
He said: "A period of custody is likely to follow. How long that will be I could not say at this point."
He said Johnson would be sentenced later this month after probation report had been compiled.