Wales needs 2,500 engineers by 2020, professionals say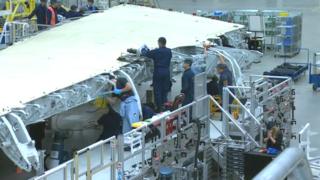 A shortage of engineering graduates could leave the sector in Wales behind if more do not enter the profession, the Royal Academy of Engineering says.
The body estimates Wales will need an extra 2,500 graduates by 2020 to keep up with those approaching retirement.
Professionals say engineering needs to attract more women into the trade in order to alleviate the problem.
The shortage of engineers has been described as a "very real threat" to the UK industry.
There are more than 20,000 businesses in the Welsh engineering sector, but the numbers have dropped in the last four years along with the number of employees, which have dropped to just over 200,000, with around 35,000 of those engineers.
However in the past year the sector has grown by over 2%.
The Engineering Education Scheme Wales (EESW), which is hosting an event at the Celtic Manor Hotel in Newport on Monday to raise interest in science and engineering, hopes to encourage the students to take up careers in the discipline.
Rhys Morgan from the Royal Academy of Engineering said the results could be serious if the shortage is not tackled.
"We are in this global market now for skills, and with increasing global manufacturing supply chains actually it's a very real threat to the UK industry.
"One benefit is being in Europe, the UK and Wales are very close to the markets and so actually is able to deliver more quickly.
"If we can provide the skills then actually Wales is a very attractive place for engineering companies to come and base their industries."
One solution is to raise the number of women entering the profession.
Currently only 10% of the engineering workforce is female.
Boys dominate the STEM (science, technology, engineering and maths) subjects at both A-level and degree level.
Events such at the EESW aim to change this balance as well as encourage a higher overall uptake of the subjects, with a particular focus on engineering and manufacturing.
Students attending will have worked on a real engineering challenge with companies, who are also taking part in the day-long event.
First Minister Carwyn Jones will also attend and take part in prize-giving for pupils who have joined the F1 challenge, which involves designing and manufacturing model racing cars.