Troubled waters for Pembrokeshire oil industry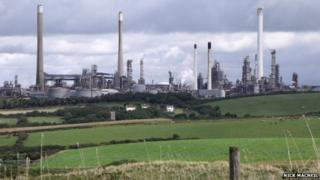 The future of the Murco oil refinery in Milford Haven is under threat and hundreds of job losses are likely following the collapse of another proposed deal to save it.
Murco's sale of the refinery to the Swiss-based Klesch Group fell through on Tuesday, nearly seven months after a sale to another firm also collapsed.
Murphy Oil - the subsidiary that operates the refinery - said it was "convinced" it would not find another buyer and will now use the site solely for storage and distribution.
That leaves the majority of the 400 workers face losing their jobs, as the refinery will enter a shut-down period and be decommissioned while the company looks for a new buyer.
But how has the decline of the Pembrokeshire oil industry come to this?
Why did Pembrokeshire have such a prolific oil industry?
A political crisis in Egypt helped bring oil tankers to Welsh waters. It came after General Nasser forced oil companies to divert their shipping away from the Suez Canal in 1956 and go via Cape of Good Hope in South Africa instead.
The companies then realised it would be cheaper to use big tankers to move crude oil and that meant they needed to use deep water ports, which is where Pembrokeshire came in as it was known as a thriving naval dockyard in the 19th Century.
Esso was the first big American oil company to open a refinery in 1960, followed by Texaco in 1964, Gulf in 1968 and Amoco in 1973.
A fifth company, BP, opened a terminal at Angle Bay in 1961 to serve its refinery at Llandarcy near Swansea. An oil-fired power station was opened in 1967 to take advantage of the supplies, closing in 1997.
Why did fortunes start to change?
As Amoco became the last to open a refinery in Pembrokeshire in 1973, the oil industry was hit by a crisis when Arab countries imposed an embargo on exports to nations seen to support Israel in the Yom Kippur war.
The era of cheap oil was over, never to return, but analyst Patrick Hudson of Fuel Supply Solutions said there were other issues in west Wales which made things more complex.
"Pembrokeshire was still well situated but oil companies were beginning to look at producing cleaner fuel," he said.
"These refineries were all set up to produce petrol, not diesel, and it would be very expensive to refit them.
"If you're looking to upgrade, you do it where it makes sense."
The decline
Esso, whose refinery at Fawley, Southampton, was closer to London and the major UK pipelines, closed its Pembrokeshire refinery in 1983.
It was followed by BP's closure of its terminal in 1985, and Gulf in 1997.
Although demand for oil products in the UK remained strong until 2006/07, industrial growth in Asia saw the focus of the world market for oil shift east, where huge super-refineries began to open.
In India and the Middle East there are massive, modern refineries with the latest technology and more cost effective, while US legislation banning the export of crude oil, resulted in more being refined in America.
The two aspects hit the British oil industry hard.
Mr Hudson added: "Europe has too much petrol, we can no longer sell to the US, and we can't sell to Africa because the US now exports there."
What has been going on at Murco?
By the turn of the millennium, two refineries remained in Pembrokeshire - Valero took over the Texaco site in 2011, but there were growing doubts over the future of the former Amoco refinery, renamed Murco.
The company put the refinery up for sale in 2010 but after four years of trying and failing to find a buyer Murco warned its workforce of 400 that the future was bleak.
Oil industry expert Keith Guppy says Murco is a victim of "a global shift in the dynamics" of the industry on a number of fronts.
"In 1972 we were all driving around in petrol-driven vehicles and here we are now in 2014 and half of us are in diesel cars," he says.
"That's the nub of the problem - our refineries were geared up for gasoline rather than diesel, and now margins are so slim investment to change them around is not really justified.
"You have a refinery that's opened in the southern tip of India that produces more in a day than all of our UK refineries combined. It is a very challenging environment."
What next?
The sites of the former Esso and Gulf refineries have found a use as terminals for imports of a new source of fuel - liquefied natural gas (LNG).
As in the 1960s, a power station has opened to make use of the incoming fuel.
But Pembrokeshire councillor John Allen-Mirehouse fears such activities will never fully replace the jobs and expertise under threat in the oil industry, and also highlights the risk of UK's increasing dependence on imported fuel.
"It's obviously far cheaper to build and run oil refineries in the Middle and Far East, so refining will migrate. We'll be importing refined product around the Cape and lose that expertise.
"LNG will never make up for the loss of these jobs - we need government action to protect the industry and our energy security," he said.