Ty Hafan hospice boss 'intimidating', hearing told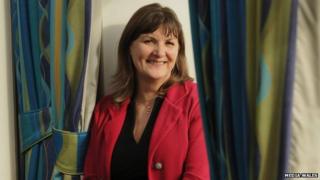 The actions of a director of care at a children's hospice were "threatening and intimidating", the mother of a dying 14-year-old girl told a hearing.
Jayne Saunders, of Ty Hafan at Sully, in the Vale of Glamorgan, denies claims of professional misconduct.
The mother of the girl, who cannot be named, said Ms Saunders had a "genuine lack of understanding" and initially refused her daughter's "last wish".
The hearing in Cardiff will see the mother cross-examined on Friday.
On Thursday, the Nursing and Midwifery Council was told the girl, who had leukaemia, had been taken by her parents to the hospice in 2008 because they felt it would be different to a hospital environment and they did not have the facilities to care for her at home.
Sleepover
The mother claimed her daughter, known as Child S at the hearing, became distressed at the way she was treated.
They felt that Ms Saunders was "hostile" to how they wanted to care for her, demanding "unfettered access" to her daughter's room.
The woman said her daughter was very private and did not want to be examined routinely by nurses at Ty Hafan, and she wanted only her mother to examine her.
However, Ms Saunders, as director of care, insisted nurses examine her several times a day, it was claimed.
The hearing was told that the family also had concerns about the way the hospice handled the girl's 14th birthday as she wanted to have a few friends to stay overnight as "her last wish - her final death wish" which was initially blocked by Ms Saunders.
The 14-year-old wrote to the children's commissioner, an office which acts for children's rights, and permission was granted the day before her birthday and the sleepover went ahead.
Ms Saunders denies all allegations including that she required that the girl consent to be regularly examined by members of the care team as a condition to remain at the hospice.