Blood clots campaign aims to save lives in Wales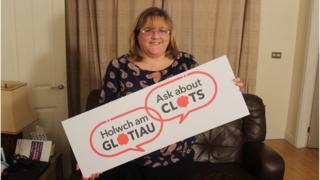 A campaign is aiming to help prevent hospital patients in Wales dying from blood clots or deep vein thrombosis.
"Ask about Clots" urges patients to ask about their risk of developing a clot so that they can get preventative treatment.
While many associate clots with flying, campaigners say most occur in hospital or within 90 days of discharge.
A Wrexham woman whose daughter, 22, died after suffering a blood clot said the campaign could save lives.
Research has estimated that 1,250 people are at risk of death every year in Wales from blood clots developed while in hospital.
The campaign is launched as Beaufort Research revealed that 62% of people in Wales believed they were more likely to develop a thrombosis on a plane than in hospital.
In reality, the risk of developing a clot in hospital can be 1,000 times higher than from time spent on an aeroplane.
"The results of the survey highlight how important the Ask about Clots campaign is to raise awareness of the danger of developing a thrombosis in hospital," said Simon Noble, medical director for the thrombosis charity Lifeblood in Wales and a consultant in Aneurin Bevan University Health Board.
"It's an important message for both patients and NHS Wales staff."
Dr Noble has worked with the 1000 Lives improvement service - which aims to reduce risks to patient safety - in Public Health Wales to develop the campaign.
"Most people associate developing a thrombosis with flying. However, two thirds of blood clots occur in hospital or in the 90 days following discharge," he said.
"That's why it's so important for patients in hospital to ask for an assessment for blood clots, and for their families to also be aware to ask on their behalf if necessary.
"Ask about Clots will also encourage our healthcare professionals to be more aware of the risks and ensure all patients are assessed."
Michelle Martin's daughter Claire died from a pulmonary embolism caused by a blood clot entering her lungs in 2010, aged just 22.
"Despite going through her symptoms, a clot was never mentioned once," said Mrs Martin, 43, from Wrexham.
"If I had known what I know now and forced the issue for this to be checked, she would still be with us."
Health Minister Mark Drakeford, who is backing the campaign, said: "It has the potential to save many lives by encouraging patients and their families to talk to doctors and health professionals.
"It means more people will receive the necessary treatment to prevent thrombosis."