ADHD drugs review call in Wales from psychologists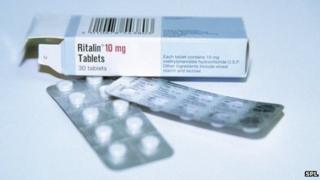 The way drugs to treat a common childhood disorder affecting behaviour are prescribed in Wales should be reviewed, said psychologists.
There was a 57% rise in prescriptions for the most common drug to treat attention deficit hyperactivity disorder (ADHD) between 2007 and 2013.
Experts say the long-term effects of methylphenidate are unknown.
The Welsh government said drug treatment should only be by professionals with ADHD expertise.
Concerns about how ADHD is diagnosed have also been raised by the Association of Education Psychologists.
It is estimated that ADHD affects between 2 to 5% of children and young people.
Common symptoms of the disorder, which is normally diagnosed between the ages of three and seven, include inattentiveness, hyperactivity and impulsiveness.
It can be treated with therapy or medication and the most common prescribed drug is methylphenidate, also known as Ritalin.
Figures seen by BBC Wales show there are big variations in the number of prescriptions being given out across Wales.
In the Abertawe Bro Morgannwg University Health Board area - which covers Swansea, Neath Port Talbot and Bridgend - there was an 88% rise to 12,446 from 2007 to 2013.
Betsi Cadwaladr Health Board, covering north Wales, produced the most prescriptions - 21,111 in 2013 - with the number rising by 78% since 2007.
Over the last seven years, the Welsh NHS spent over £13m on prescriptions.
Kate Fallon, general secretary of the Association of Education Psychologists, said: "We don't actually have enough research to know what are the long-term effects, particularly of the long-term usage of the drugs, and what effect that might have on these very vulnerable brains of these children if they are being given the drugs at such a young age."
Data on exactly who the prescriptions are going to and how long they have been prescribed the drug are not available.
Ms Fallon added: "You've got some very bald figures here and without knowing the ages of the children or the length of time that the children are on them, then you can't really get a proper picture to say if we tried to implement some of the sorts of programmes might we be able to bring down the use of these drugs.
"I'd be very keen to talk to the Welsh government about suggesting to them that they do look at those figures, and the Welsh government could lead the field in this, in tackling this whole issue of the diagnosis of ADHD and the prescription of drugs and perhaps show to England how it might be done."
A Welsh government spokesperson said: "Drug treatment should only be initiated by an appropriately-qualified healthcare professional with expertise in ADHD and should be based on a comprehensive assessment and diagnosis.
"Child and adolescent mental health services in Wales have strong working relationships with schools and others agencies to enable any problems to be highlighted and addressed at an early stage."
Health Board
2007
2008
2009
2010
2011
2012
2013
Abertawe Bro Morgannwg
6660
7456
8200
9201
10890
11941
12446
Aneurin Bevan
3869
4193
4422
4545
4952
5282
5157
Betsi Cadwaladr
11854
13357
14814
16162
18245
19662
21111
Cardiff and Vale
4106
3606
3947
4053
4121
4868
5673
Cwm Taf
5786
6978
7337
7773
7972
7604
7543
Hywel Dda
4701
5341
5796
6362
6402
6693
6821
Powys
1679
1670
1850
2006
2026
2077
1928
TOTAL
38655
42601
46366
50002
54608
58127
60679