Tracy Johnson given cold weather payments while globetrotting, court told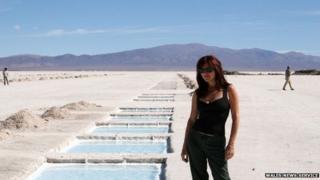 A benefits cheat living a life "hard-working taxpayers could only dream of" received cold weather payments on her travels overseas, a court has heard.
Tracy Johnson, 52, said she suffered from agoraphobia, was "afraid of other people" and had not left the UK.
But Merthyr Tydfil Crown Court heard her travel diary described Buenos Aires as "so magical - like a new lover".
She is accused of changing her address to her mother's home in Powys to claim benefits. She denies fraud.
The court heard Ms Johnson, of Frome, Somerset, had claimed that she had not left the UK for years and that her fears and illnesses left her a "prisoner at home".
But the prosecution claims she travelled the world writing travel guides, cookbooks and steamy novels while falsely claiming benefits of almost £50,000.
The defendant travelled to India, Spain and New York and in Argentina she set up her own tour company, Northwest Nomads.
The jury was told when in Goa, one of her postings on Facebook read: "I am one spoilt girl. Early lunch in the Himalaya Spa. Lunch here would be two weeks' wages in India."
Another diary entry reads: "1st thought. So relaxing, palm trees swaying. 2nd thought. People who come here and think it's India have made a big mistake - it's not like India it's like Miami with Saris."
Joanna James, prosecuting, read the defendant's profile from the LinkedIn business networking site to the jury in which she claimed to be an "author, photographer and tour director of Northwest Nomads from 2002 to the present time".
'Hallucinate'
Another Facebook posting said: "If you are in Argentina get your hands on my favourite champagne bar none - it's pink and brut."
Ms James said: "Tracy Johnson was living the life that honest, decent, hard-working taxpayers could only dream of.
"It was absolute, blatant dishonesty,"
The court heard that Ms Johnson had claimed she needed physical and emotional support for agoraphobia, depression, hallucinations, anxiety, blackouts and post traumatic stress disorder (PTSD).
She wrote on a form: "I have severe agoraphobia and am entirely housebound. I am too afraid to go out, I can't go into a shop or office, I am afraid of other people.
"I have panic attacks, can't breath, I hallucinate, my legs give way in panic.
Photographs
"I have a constant fear of other people, I need support to protect me from the world outside.
"I am a prisoner at home because it's the only place where I'm safe."
The £25 cold weather payments, paid automatically to people on disability benefits when their local temperature drops to an average of 0C or below over seven consecutive days, were made while Ms Johnson was abroad, the court heard.
The court was told the defendant was not receiving benefits during a four-month trip to India but the prosecution claimed she failed to disclose on her application for disability allowance that she had been out of the UK for more than four weeks.
The benefits agency believed she was living in Brighton, Sussex, and was housebound because of her medical conditions, the court heard.
Ms Johnson, who is representing herself, is accused of fraud, dishonestly making a false representation and dishonestly failing to notify a change in circumstances between January 2008 and July 2012. She denies 13 charges.
Twin Towers
Giving evidence on Wednesday, she said photographs produced by the Department for Work and Pensions as evidence of her travels were "misleading" in that one was taken in 1996 and not 2012 as represented.
She blamed her agoraphobia on PTSD she suffered from working in New York when the Twin Towers were attacked in 2001.
Ms Johnson said the PTSD was like living in a "black hole" and had led her to the point of suicide.
She moved back to England after her young son had "vanished" in Toronto, Canada, she said, but had not wanted to be on benefits.
Her trip to India in January 2012 was at her own expense, she said, but on her return she felt herself "spiralling down", and her GP put her under the care of a community psychiatric nurse.
Ms Johnson said: "I was running out of money. The nurse got me a claim form but she filled it in without me being present."
She told the jury it had never been her intention to defraud.
The trial continues.