Powys cabinet backs £130,000 National Eisteddfod fund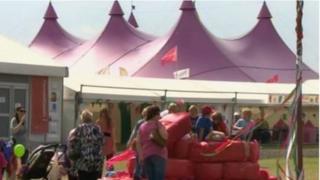 A £130,000 plan to promote Powys in the run-up to the county hosting next year's National Eisteddfod has been backed by the council's cabinet.
Powys council will set aside the money to cover its costs to stage events and prepare for the eight-day cultural festival next summer.
The National Eisteddfod will be held in Meifod, near Welshpool, between 1 and 8 August 2015.
The council estimates that 160,000 people will descend on the village.
The funding will also help finance staging the proclamation ceremony - a celebration which takes place the year before the eisteddfod is held in a particular area - in Newtown on 5 July this year.
A joint report by cabinet member for regeneration, Rosemarie Harris, and Myfanwy Alexander, the cabinet member responsible for the Welsh language, said holding the eisteddfod would provide an opportunity to raise the profile of Powys.
It added that the fund would be an "investment in marketing and promoting our county".
The report said independent research had shown the National Eisteddfod had "a positive impact of between £6m and £8m on local economies" that staged the festival.
It warned that holding the event would increase the workload for council officers and departments.
But £24,000 would be set aside to create a post for 12 months to help with preparations.